White Desert Bahariya Oasis Egypt
The White Desert in Egypt is said to be one of the most visited popular attractions for adventure tourism due to the sheer unusual and diverse rock formations in its bright white surroundings.
Location:
Just north of the Farafra Oasis town in the Western Desert region and very accessible for all guided tours into this region, it has a lot of sites to visit.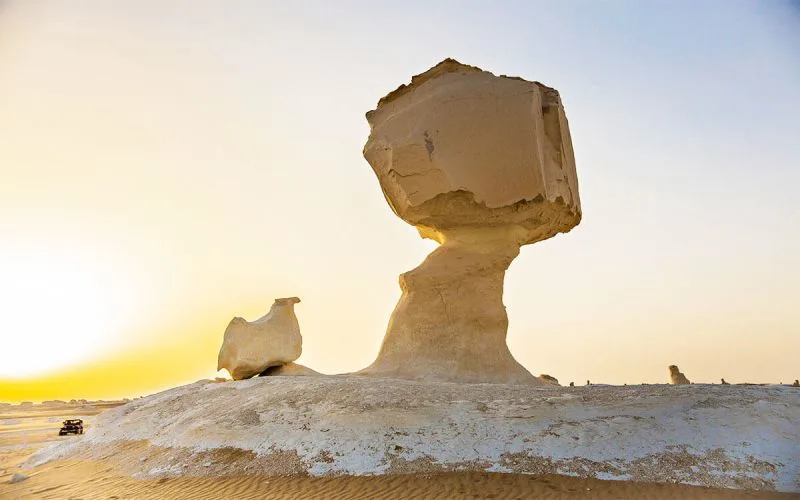 What to see:
To see the desert at its whitestone must drive some distance from the main road. The weathered chalk mounds are dotted like pavlova cakes, ice-cream cones, and pools of icing. One might skim over a snow-swept glacier or thread one's way through a maze of peppermint drops. The fantastic shapes of Farafra's White Desert are the result of millions of years of erosion of this chalk by wind and by sand blown in from the Great Sand Sea.
Encounter the Khoman chalk ridges created from the sediment of marine creatures deposited in the bed of a vast ancient sea. A similar but rather white, chalky limestone is the source of the ice-white bricks used all over the Western Desert, north to south, as a building material for structures that will last only a tiny fraction of the eons the stone took to form. A layer of harder limestone dating from the later Eocene period forms a pink crust over the surface of the chalk At sunset and dawn you see a dramatic theatre left by an antique ocean and this is the best way to appreciate the White Desert. Whether seen by jeep or camel, the marvelous contours of this pale landscape, which at times resemble a field of snow and at others gives the impression of a giant ice-cream parlor, are an unforgettable vision in one of the most spectacular of all deserts.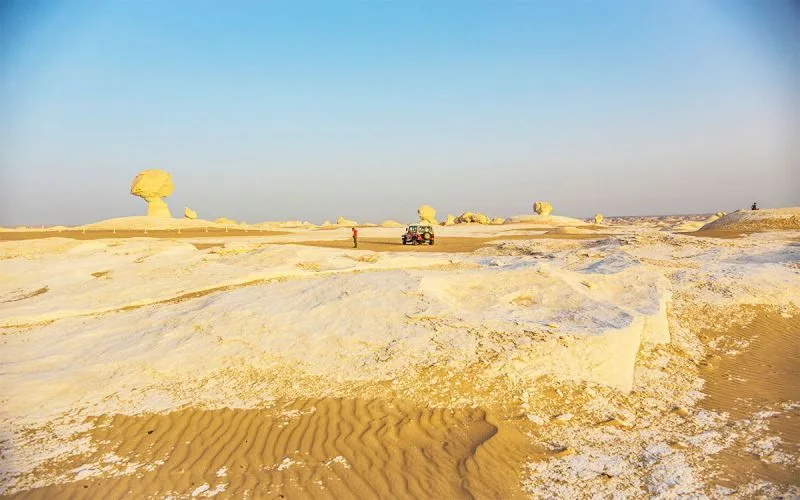 Travel Experience Since 1955

Memphis Tours is one of the pioneers which have great impact on travel industry for more than 55 years of experience.

Personalized Travel Services

Whatever your travel dreams, together we can custom-design the perfect itinerary with highly personalized services just for you

We Speak Your Language

A multilingual website offers content in 6 different languages English, Spanish, Portuguese, French, Italian and German

Flexibility to Change

We know how important it is for travellers to have the flexibility to change their itinerary due to some reasons or force majeure

Your Safety and Security

A professional will accompany the guests to all of the places; they will never be left alone to fend for themselves

High Quality Service

We do believe honestly that quality should come first and quantity would come later and our main objective focused on (Quality is our Top Priority)

Customer Service 24/7

We offer Customer Support 24 hours a day, 7 days a week by phone and email for questions about our tours and services

Support Sustainable Tourism

We are attempting to make a low impact on the environment and local culture, while helping to generate future employment for local people

Secure Online Payment

Our website is protected by the world′s most secure online payment system VeriSign Secure

Secure Website by MacAfee

Memphis Tours website is a McAfee Secure site that helps keep you safe from identity theft, credit card fraud and spyware