Siwa Oasis Egypt

Siwa


Siwa Oasis is the favourite of many desert travellers.
It has a unique atmosphere and an ambience that is genuinely relaxing, truly a magical place.
Siwa ecolodge Adrere AmellalIt can be reached either along the desert road from Bahariya or, more usually, down from Marsa Matruh on the northern coast. There is also an air service though you need to check first about when flights are leaving from Cairo. moreover, There are no major hotel chains though there are a few highly individual top-class places to stay- Prince Charles stayed at one when he visited in 2006.
Siwa ecolodge Adrere AmellalSurrounded by lakes that are too saline to support fishing Siwa has been famous for its olive groves and palm gardens since ancient times. Today Siwan olives and Siwan bottled water are considered the finest and purest in Egypt. It is an easily supported claim as there is nothing produced here that might be a pollutant. Siwa has two populations, originally. The Siwans, who are berber in origin, and the Bedouin, who inhabit villages around the edge of the Oasis and whose gaily dressed women are not as reclusive as the native Siwans.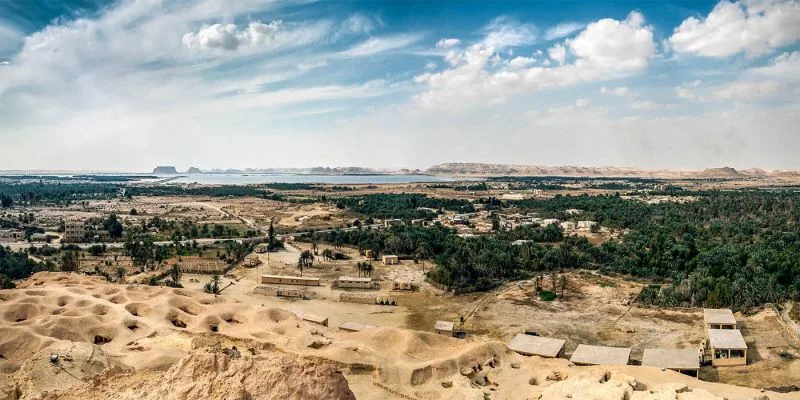 One is struck in Siwa by the ruined mud town of Old Shali that was abandoned, finally, in the 1980s after severe rain damage. It is next to the new town of Shali and looks like a ruined castle made of mud pies. You can visit it by picking your way through the darkened passageways but mind where you step. Siwa is most famous as being the site of the Oracle visited by Alexander the Great in 331BC.
He arrived and demanded that the Oracle answer his question (reputed to be 'Will I rule the world?' the answer being 'Yes, but not for very long'). As well as being able to visit the reputed site of the Oracle there is Cleopatra's pool and the ruined town to visit, to name but a few of the sights.

Siwan Crafts
Siwa has the best craft tradition of any of the oases. You can get unique ceramic tajin, Saharan cooking pots, handmade and fired in bread ovens rather than kilns.
Wedding dresses of stunning design are made by women, who dress plainly the rest of the year.
Music in Siwa
SiwaYou will notice that Siwans are uninhibited and talented musicians.
Siwans tend to keep in musical practice for the four big festivals they hold each year, as well as their highly musical weddings. The biggest
festival, Siayha, which anyone can attend, draws over 10,000 Siwans to nearby Jebel Dakhour for three days of feasting, dancing and singing.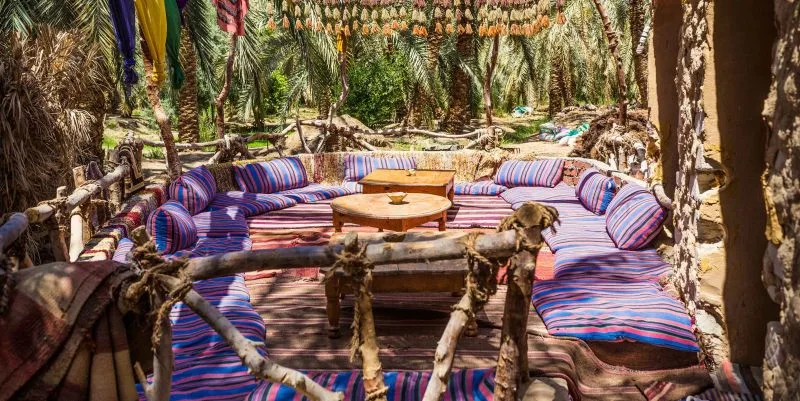 Travel Experience Since 1955

Memphis Tours is one of the pioneers which have great impact on travel industry for more than 55 years of experience.

Personalized Travel Services

Whatever your travel dreams, together we can custom-design the perfect itinerary with highly personalized services just for you

We Speak Your Language

A multilingual website offers content in 6 different languages English, Spanish, Portuguese, French, Italian and German

Flexibility to Change

We know how important it is for travellers to have the flexibility to change their itinerary due to some reasons or force majeure

Your Safety and Security

A professional will accompany the guests to all of the places; they will never be left alone to fend for themselves

High Quality Service

We do believe honestly that quality should come first and quantity would come later and our main objective focused on (Quality is our Top Priority)

Customer Service 24/7

We offer Customer Support 24 hours a day, 7 days a week by phone and email for questions about our tours and services

Support Sustainable Tourism

We are attempting to make a low impact on the environment and local culture, while helping to generate future employment for local people

Secure Online Payment

Our website is protected by the world′s most secure online payment system VeriSign Secure

Secure Website by MacAfee

Memphis Tours website is a McAfee Secure site that helps keep you safe from identity theft, credit card fraud and spyware