Oases Practical information

Forget T-shirts and shorts- if you are walking for any length of time you will get badly sunburnt even with the suncream on. Bring a hat with a brim or better get the guide to show you how to wear a Bedouin-style scarf- easily bought at any oasis. Long quick-dry type trousers are best, baggy and lightweight. The kind with zip-off shorts can be opened to let in the breeze rather than zipped completely off. On a really hot day a baggy man-made fibre shirt is best. On ordinary days a wick away or conventional vest will keep you cooler longer. Baggy cotton and linen shirts are also fine if they are not too heavy.
In the evening it can get really cold by comparison. Bring a fleece and a windproof jacket of some kind, or a sweater and maybe a down jacket. Longjohns are not a bad idea too.
Bring boots or, better, Teva-type sandals as long as they are comfortable. Trainers are not so good.
Personal Gear
You do not need much. Sunglasses, sun cream and plasters for potential blisters. Your preferred painkiller- a hot dry day can leave you with a headache if you've just arrived from the frozen north. A headlamp is very useful- you don't need the most expensive but don't be tempted by the ultra-cheap ones as they always break. Small binoculars can be useful. Any camera should be kept in a plastic bag most of the time as sand gets everywhere- and will jam motors. Wet wipes are essential for getting clean in a no-washing environment. Use them before a meal as infections are most easily spread from hand to mouth. Take a toilet roll and when you have finished burning the toilet paper- it will last as long as papyrus otherwise thousands of years. Bury the rest under a good pile of stones.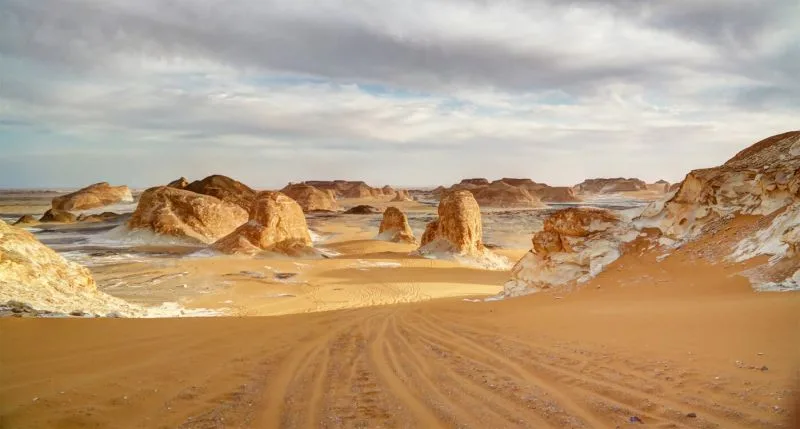 Transport
The best way to the see the desert is on foot. Now you can either walk unaccompanied all the way or you can drive to a nice part of the desert and then walk, or you can walk alongside a camel carrying all your victuals and supplies. The choice is yours.
Many take the car option- and in Egypt, there are numerous guides and guiding companies who will set up everything you need for a good desert trip. If you stipulate you want to walk at least two hours a day, or one, they will be happy to oblige. Usually, you start walking in the morning as they pack up the camp and then you can also get dropped off some way from camp at night and walk along the tracks they leave. Any guide who won't allow you to walk and enjoy the utter freedom of the desert is not worth going with.
All guides will carry sand plates for getting out of soft sand, a jack, spare tyre if not two, and a few key spares such as fan belt and perhaps water pump. Many now have sat phones though this is not really as great a help as it may seem. Sat phones don't stop mistakes happening- it is better to go with a good guide in the first place.
Maps
Having a map makes it more fun. You can get maps off the net or from the Egyptian Map Office in Giza. It is best to ask the guide or a tour company representative to make the purchase as it can get complicated.
Water
In summer you may need 5 litres a day. If you drink anymore then you are doing too much exercise. You may well feel sick too. In winter and spring, 1-3litres should suffice in addition to any drinks and soup you may consume. Water is usually carried in bottles and boxes. This is not very eco-friendly make sure the guide collapses the bottles and brings them back to the Oasis. Jerry cans of water are better but clumsier and potentially dirtier. On a camel trip you might carry a few boxes for just drinking and the rest in jerries for cooking.
Food
Desert food is simple food. Traditionally it is dates, bread and tea. A little meat and rice if you are lucky. Fortunately, there are some great dessert chefs out there- some of the best food in Egypt is cooked upon the desert in my experience. Expect pasta and rice and bread as the carbohydrate and then meat and vegetable sauces and lentil soup which can be terrific.
Also barbecued lamb and chicken on the campfire. For breakfast- bread, honey, and eggs- most guides know how to make bread under the fire in the Bedouin style and that's always a fun thing to do.
Shelter
Tents are usually offered but you bring your own sleeping bag. Get a three or even four-season bag as it can get chilly at night in winter. I started off always sleeping in tents- now I rarely do- the flapping sound made by even a small breeze can be rather distracting- and you don't get to see the incredible night sky! Mattresses are always provided but again if you wriggle down in some sand you will be plenty comfortable with just your sleeping bag.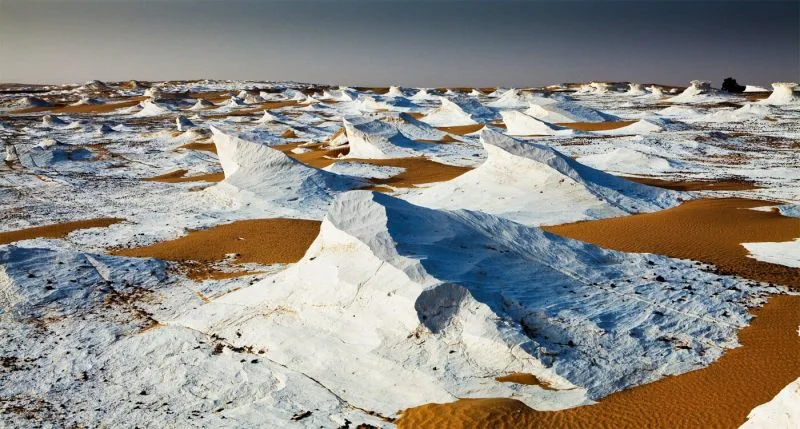 Travel Experience Since 1955

Memphis Tours is one of the pioneers which have great impact on travel industry for more than 55 years of experience.

Personalized Travel Services

Whatever your travel dreams, together we can custom-design the perfect itinerary with highly personalized services just for you

We Speak Your Language

A multilingual website offers content in 6 different languages English, Spanish, Portuguese, French, Italian and German

Flexibility to Change

We know how important it is for travellers to have the flexibility to change their itinerary due to some reasons or force majeure

Your Safety and Security

A professional will accompany the guests to all of the places; they will never be left alone to fend for themselves

High Quality Service

We do believe honestly that quality should come first and quantity would come later and our main objective focused on (Quality is our Top Priority)

Customer Service 24/7

We offer Customer Support 24 hours a day, 7 days a week by phone and email for questions about our tours and services

Support Sustainable Tourism

We are attempting to make a low impact on the environment and local culture, while helping to generate future employment for local people

Secure Online Payment

Our website is protected by the world′s most secure online payment system VeriSign Secure

Secure Website by MacAfee

Memphis Tours website is a McAfee Secure site that helps keep you safe from identity theft, credit card fraud and spyware