Diving in Egypt

Welcome to the most beautiful diving spots in the world…
Boasting over a thousand diving sites, including some of the world's most famous spots,
Egypt
is undoubtedly the dream destination for divers from all over the world.
The Red Sea offers an idyllic setting for exploring underwater landscapes.
You'll be entranced by the multifarious flora and fauna, amazed by the abundant tropical coral reefs and enthralled by the impressive array of ancient shipwrecks. The water that ripples throughout this aquatic paradise is clear and warm, which – combined with high saline levels – makes it an ideal environment for over a thousand different types of coral reef, not to mention 300 species of shark. In this fascinating underwater realm, colourful fish will happily swim alongside you as you dive, sharing in the wonders of this silent deep-sea world…
PRACTICAL INFORMATION
Diving centres:
Professionals manage most of the centres, and the necessary equipment is available for use. You will find diving centres in nearly all of the seaside resorts. Please note that these centres are privately owned.
General advice and some but not all safety recommendations:
• Always make your choice on the basis of safety rather than price
• Visit several different centres before deciding
• Choose a diving instructor who speaks your language
• If your last dive was over three months ago, do a few adaptation dives to reacclimatize yourself
• Check that the equipment is clean, and that is has been maintained and stored correctly (not in the sun, for example)
• Check that the tubes, mouthpieces and valves have no leaks
• Check that the diving suits are in good condition
• Make sure that there is oxygen on the boat (in case of an accident)
Diving lessons:
Certificates and diplomas from the following bodies are offered by the diving centres: PADI, NAUI, SSI and CMAS.
The clubs offer initiation dives and lessons for beginners, during which learner divers can get to grips with the correct reflexes and automatisms.
Many clubs also offer courses for experienced divers.
Gear:
The clubs rent out equipment and wetsuits at competitive prices, but it is of course possible to use your own equipment.
Wetsuits are required in summer and in winter.
Protection of the coral reefs:
In order to preserve the natural beauty of the coral reefs, you will be asked not to wear gloves and not to touch the flora and fauna. Anyone caught disregarding these rules or damaging the natural environment runs the risk of being fined.
Temperatures
| | | | | | | | | | | | | |
| --- | --- | --- | --- | --- | --- | --- | --- | --- | --- | --- | --- | --- |
| | Jan | Feb | March | April | May | June | July | August | Sept | Oct | Nov | Dec |
| Air Temperature °C | 20 | 22 | 23 | 26 | 30 | 31 | 31 | 33 | 31 | 29 | 25 | 22 |
| Water Temperature °C | 22 | 21 | 22 | 23 | 25 | 26 | 27 | 28 | 27 | 27 | 25 | 24 |
Diving Maps in Egypt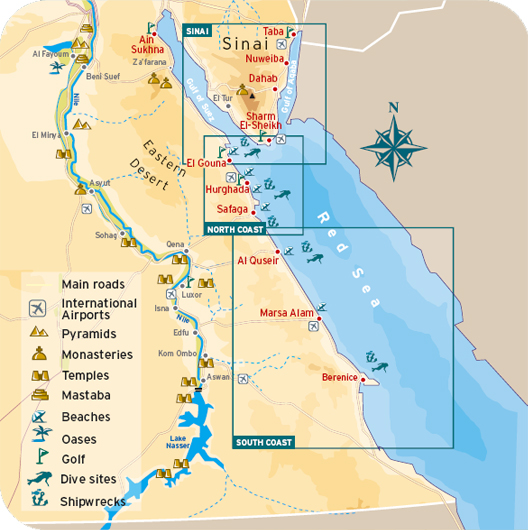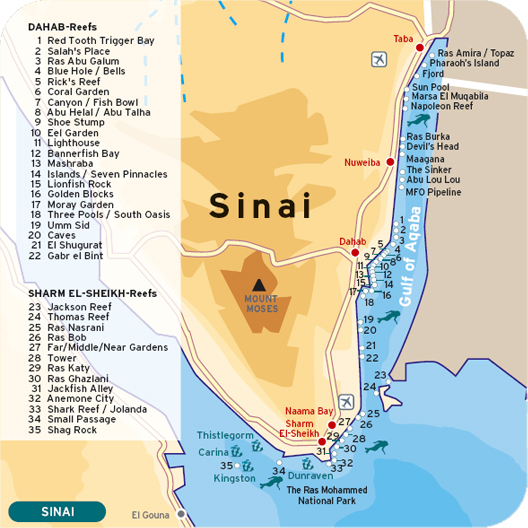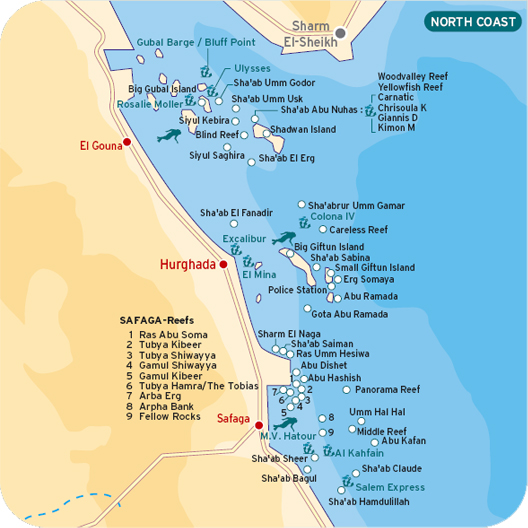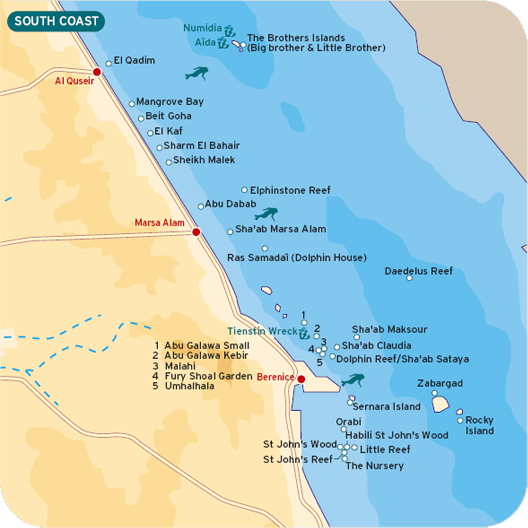 Travel Experience Since 1955

Memphis Tours is one of the pioneers which have great impact on travel industry for more than 55 years of experience.

Personalized Travel Services

Whatever your travel dreams, together we can custom-design the perfect itinerary with highly personalized services just for you

We Speak Your Language

A multilingual website offers content in 6 different languages English, Spanish, Portuguese, French, Italian and German

Flexibility to Change

We know how important it is for travellers to have the flexibility to change their itinerary due to some reasons or force majeure

Your Safety and Security

A professional will accompany the guests to all of the places; they will never be left alone to fend for themselves

High Quality Service

We do believe honestly that quality should come first and quantity would come later and our main objective focused on (Quality is our Top Priority)

Customer Service 24/7

We offer Customer Support 24 hours a day, 7 days a week by phone and email for questions about our tours and services

Support Sustainable Tourism

We are attempting to make a low impact on the environment and local culture, while helping to generate future employment for local people

Secure Online Payment

Our website is protected by the world′s most secure online payment system VeriSign Secure

Secure Website by MacAfee

Memphis Tours website is a McAfee Secure site that helps keep you safe from identity theft, credit card fraud and spyware