Istanbul Travel Guide
Interested in fascinating cities around the world? Then you will love this one! Istanbul in Turkey, once called Constantinople, was once the capital of the Byzantine and Ottoman empires. It is a very old city, founded around 660 BC, so you can imagine how rich and interesting is its history! Got curious? Come to know more about Istanbul!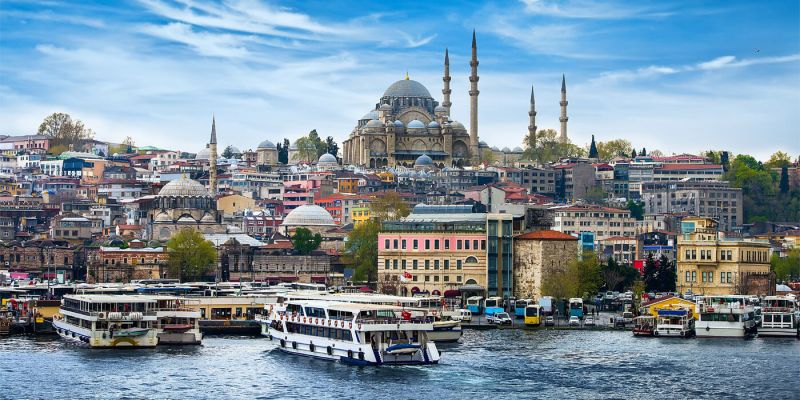 Where is Istanbul located?

Istanbul is located in Turkey, and it is the only city in the world on two continents at the same time, Europe and Asia. The Bosporus strait connects the Black Sea to the Marmara Sea, and the waters of the city - Bosporus, Golden Horn, and Marmara - are called "the three seas". The Golden Horn is a deep drowned waterway valley. Although a very famous city and a favourite destination for many tourists, Istanbul is not the country's capital, but Ankara.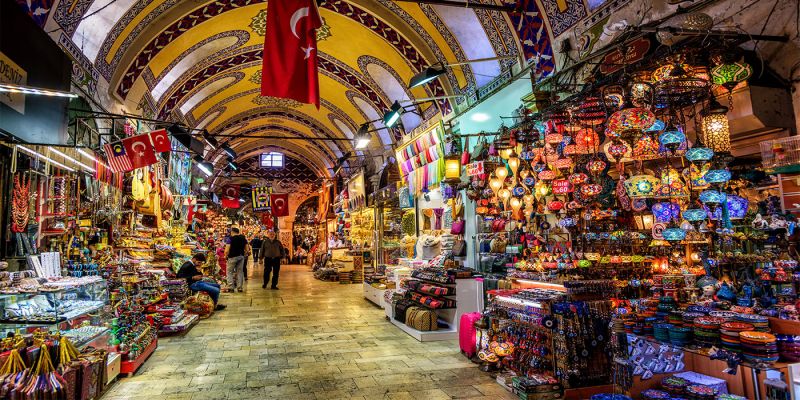 What is Istanbul's population?

Istanbul is amongst the biggest cities in the world, and keeps growing! There are over 15 million people living there and its total area comprises over 5 thousand square kilometers.
How is the weather in Istanbul?

Turkey has really hot summers and cold winters, and Istanbul is no exception. During winter the northwest icy wind that comes from the Black Sea can freeze the Golden Horn and the Bosporus. The best time is during Spring/ Fall, when it is not too hot nor too cold, therefore between April-May, and from mid-September until mid-November.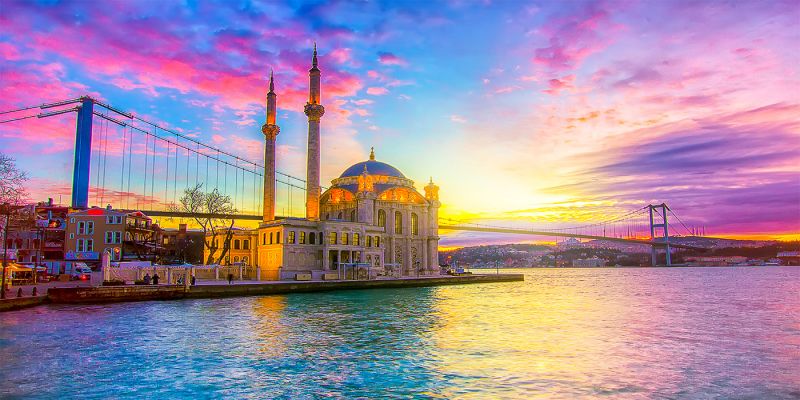 Could you briefly tell me Istanbul's story?

The city's first inhabitants date to 2000 BC. By the 7th century, the Megara king Byzas established there a colony, resulting in its first name: Byzantium. Several invaders and conquers ruled the city for the next centuries, such as the Persians and Alexander the Great. The city was conquered by the Romans in 193 AD and kept under their domain until the fourth century, when the emperor Constantine the Great made of its capital of the Roman Empire, naming it Constantinople.

Later on, the city faced riots and was destroyed (but rebuilt!). From the 7th to the 10th century it would be ruled by the Arabs and the Barbarians, respectively. The Fourth Crusades took the best of it for half of the XIII century, sacking and destroying the city, which would never be the same after that.
When the Ottoman Turks conquered the city they renamed it as Islambol (City of Islam) and by the XVI century, it was an important center of culture and commerce. The final name, Istanbul, is a combination of Islambol and "eis tin Polin" ("to the City" in Greek). The Ottoman Empire lasted until the I World War. In 1923, Ataturk finally founded the new Republic of Turkey as we know now.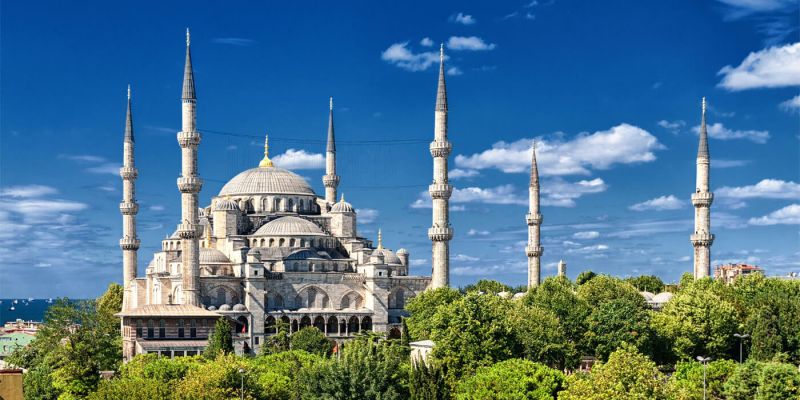 What are Istanbul's best tourist attractions?
Istanbul is FIlled with amazing Places to fulfill the touristic needs of all visitors, but here are some of the must-see sites in our Opinion:
Hagia Sophia: a magnificent place that served to different religions along the centuries and now has been turned into a museum.
Blue Mosque: it is the most important mosque of Istanbul, built in the XVII century. Although its name is Sultan Ahmed Mosque it is known as Blue Mosque due its blue interior decoration.
Grand Bazaar: it is the oldest and largest covered market in the world, built in the XV century. Enjoy the opportunity to buy souvenirs, spices, textile or simply walk around.
Topkapi Palace: house of Ottoman sultans, it is an obligatory stop that will require at least half of your day. The highlights are the Harem and the Treasure.
Dolmabahçe Palace: definitely the most beautiful building in the country, it was the home of the last six Ottoman sultans and the administrative center of the Ottoman Empire.
Suleymaniye Mosque: built in the XVI century, this beautiful mosque shows the perfect harmony between Byzantine architecture and Islam.
Basilica Cistern: a historical place built in the V century that contains impressive marble columns. Before the cistern was built the place used to be a basilica, therefore this name.
Istanbul Archaeological Museum: they are three museums combined (Archaeological, Ancient Orient, and Tiled Kiosk) and one of the most important in Turkey.
Sail on the Bosporus: it is an experience in itself, and you can enjoy the attractions along with the trait, such as Dolmabahçe Palace, Rumeli Fortress, Çiragan Palace, Beylerbeyi Palace.
Galata Tower: Built-in 1348 and 67 meters high, it was the tallest building of its time. Nowadays it offers a stunning view of Istanbul to visitors.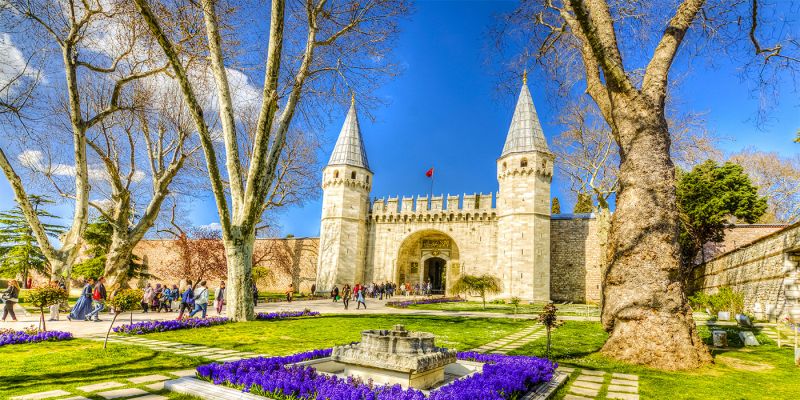 Tell me something that makes Istanbul unique.
Every city has something unique, that is part of its personality, and all the main attractions mentioned above and its history make of Istanbul unique. But something that definitely adds an extra charm to Istanbul is how it is a cat-friendly city. The cats there are part of the scenery and are taken care of by the locals, so they are very friendly, walking freely amongst shops and cafe shops - that always welcome them.
What else should I know about Istanbul before traveling?
Turks are very friendly people, and it is normal that people kiss cheeks when meeting, regardless of the genre. Yet, be careful about showing affection in public; couples holding hands is fine but kissing on the street is not common. Most Turks will be dressing smart casual clothes and wearing skirts and shorts is fine, except when visiting mosques.
Istanbul outside the box
Istanbul is a great city, where modernity and tradition meet. Truly an amazing blend of European and Middle Eastern cultures! But remember to enjoy the city besides the main attractions. Walking around and paying attention to the details is priceless, such as the original entrance gates that surround the Grand Bazaar and display its construction date. Or eating the famous crepe in the charming neighborhood of Besiktas while sitting down on a bench facing the Bosporus. Oh, and don't forget experiencing a true Turkish bath in one of the hamam around the town. You will feel so relaxed! To sum up, enjoy and live Istanbul fully!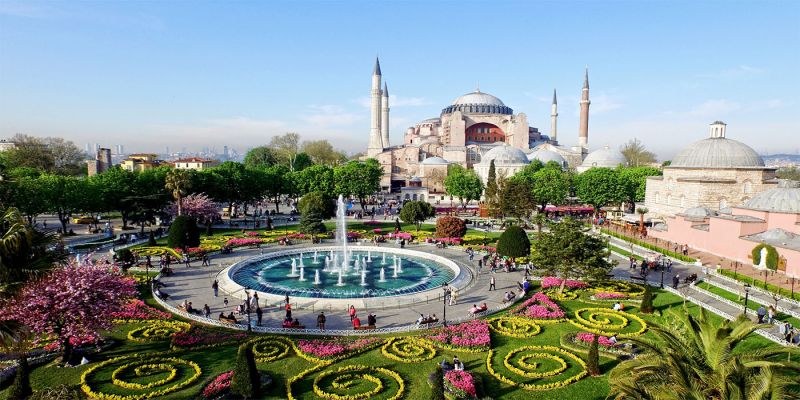 FAQs
Which places are a must to see in Turkey ?
Must Take a hot air balloon ride - Visit Topkapi Palace, Grand Bazar,Hagia Sophia Mosque,The Blue Mosque of Sultan Ahmed, Eyup sultan mosque Istanbul &The Green Mosque of Bursa
Is Turkey a Safe country?
Turkey is a very touristic country so it's safe and well secured and there are checking points everywhere to guarantee security, also Turkish people are kind and used to welcome tourists
What are necessary documents for entry visa?
Must have a passport valid for at least 6 months beyond the scheduled return date to enter Turkey and you can obtain a visa from Turkey Consulate before departure or you can make E-visa with fees 20 USD or 30 USD upon arrival, Additionally, Some nationalities don't need a visa to visit Turkey for the purpose of tourism for up to 3 months.
When is the best time to visit Turkey ?
The best time during summer due to the great weather, actually it is the high season in Turkey and there are so much activities to do during summer
What are the most famous typical dishes in Turkey that I should try ?
You Should not miss to try the Doner Kebabs (Shawarma), Simit, Menemen, Meze, and more Turkish food can make you unforgettable fabulous turkey tour.
Which currency can I use in Turkey?
The official currency of the Republic of Turkey is Turkish lira, however U.S. Dollar and Euro are widely accepted by large shopping centers, hotels, and restaurants at rates that are relatively close to the official ones. Make sure you know the current exchange rate of dollars or Euros to Turkish Lira (TL).
Can I use credit cards in Turkey everywhere?
Credit cards are widely used in Turkey in most places. The most common types of credit cards used in Turkey are Visa, Master Card, and American Express.
What about tips in Turkey ?
People who work in tourism usually depend on tips, as a major part of their income. Therefore, tipping is considered so great during your trip to express your satisfaction
How to book with Memphis Tours?
It's so easy , you just need to contact us explaining your needs and Memphis Tours will respond within 24 hours maximum with all details and for confirmation you will need to pay deposit and the rest of payment upon arrival
What is the payment policy of Memphis Tours ?
To make the booking process easier and less taxing & because your well being is our top priority, we have updated our booking conditions. The downpayment needed to secure your spaces including Hotel rooms, cruise cabins, domestic flights & other travel-related services is Just 10% of the Tour Cost. The remaining balance can either be paid two days before your arrival date or To your Tour manager upon arrival at your destination. You can pay the deposit for your tour using a credit card (Visa and Mastercard are accepted)
Does Memphis Tours make special rates for groups?
Sure, Memphis Tours provides discounts for private tours that are booked with large groups from ten people to above.
Is there a certain clothes to wear during visiting a mosque/religious sightseeing in Turkey?
There aren't certain clothes to be wear but the modest dress covering the body and hair for women would be highly recommended
Should I take certain vaccinations before travelling to Turkey?
There are no obligatory vaccinations that should be taken before . However, it would be recommended for the elder people and for young children to take vaccinations against Hepatitis C, Typhoid, and an oral dosage of Tetanus.
Is It possible to take photos in street?
Yes sure you can but it's better to ask permission before taking a photograph of people, especially women, and stores or products. Photography is prohibited around army bases, airports, dams, and bridges. If you happen to be in a place where photography is prohibited, you will sure find signs to notify you gently.
Can I cancel my trip and take refund?
we offer one of the most flexible cancelation policies around in case a warning from or to your departure/destination country is issued by the government or airline company. In the event of this happening the paid amount will be refunded in full because we want our cancelation policy to show how important your safety and well being are to us.
Should I learn Turkish before travelling?
You don't need to learn Turkish if you can speak English however also our tour guide will be with you during all excursions. It is always a better experience to learn a few words from the land-native-language to express greetings or thanks.
Is it possible to make a combined tour including other destinations in addition to Turkey?
Sure, it's possible to add Greece or Egypt
Travel Experience Since 1955

Memphis Tours is one of the pioneers which have great impact on travel industry for more than 55 years of experience.

Personalized Travel Services

Whatever your travel dreams, together we can custom-design the perfect itinerary with highly personalized services just for you

We Speak Your Language

A multilingual website offers content in 6 different languages English, Spanish, Portuguese, French, Italian and German

Flexibility to Change

We know how important it is for travellers to have the flexibility to change their itinerary due to some reasons or force majeure

Your Safety and Security

A professional will accompany the guests to all of the places; they will never be left alone to fend for themselves

High Quality Service

We do believe honestly that quality should come first and quantity would come later and our main objective focused on (Quality is our Top Priority)

Customer Service 24/7

We offer Customer Support 24 hours a day, 7 days a week by phone and email for questions about our tours and services

Support Sustainable Tourism

We are attempting to make a low impact on the environment and local culture, while helping to generate future employment for local people

Secure Online Payment

Our website is protected by the world′s most secure online payment system VeriSign Secure

Secure Website by MacAfee

Memphis Tours website is a McAfee Secure site that helps keep you safe from identity theft, credit card fraud and spyware