The Ancient city of Cappadocia
Points covered:
History of Cappadocia
Weather and Climate
Culture and Tradition
Attractions of Cappadocia
Travel Tips
Cappadocia is a historical region that is located in the Nevsehir, kirsehir, Aksaray and Nigde provinces in Turkey. The ancient city has been in existence since ancient times, as proved by the various references made to the city in biblical passages and also in the various lingual inscriptions of the two Achaemenid kings, Darius I and Xerxes whom included the city into the already existing cities of the old Persian empires. The city is characterized by fairy chimneys, mountains and also a unique historical and cultural heritage. It is also home to a lot of historical locations that have been declared as a World Heritage center by UNESCO. These places include The Kaymakli Underground City, The Derinkuyu Underground City and many more.
History of Cappadocia

Cappadocia was initially called Hatti during the Bronze Age. It was the homeland of the Hittite empire that settled around Hattusa. Later, after the Hittite empire had been destroyed by the Neo-Assyrian Empire, only a small Cappadocian fraction of the country was left intact and this fraction was ruled by a sort of feudal aristocracy that exploited the people and led them into a servile condition. The poor living conditions of the people made the move to foreign land even though they knew they were going to be enslaved. The remaining part of the fallen Hittite empire was allowed to have rulers of their own, but these rulers only served as governors and had to answer to the supreme ruler of the Persian empire.
Later, Alexander the Great defeated the Persian empire and then divided the territories to his generals who ruled these lands and answered to him. Cappadocia which was part of the Persian empire at that time was given to Ariarathes who ruled over the region and turned out to be a very successful king. Ariarathes expanded the borders of Cappadocia to as far as the Black sea and also brought relative peace and development to the land. This continued until the death of Alexandra, which led to the division of the whole empire Alexandra had built. After the division, Cappadocia fell into the hands of Eumenes who ruled for a very brief time before he was replaced by Ariarathes II who was the adopted son of Ariarathes I.
The city was also ruled by Romans during the Byzantine Empire. During that time, it became a major Christian community with a lot of churches and Christian religious structures and designs. This continued until the Byzantine Empire was conquered by the Seljuks sultans. The defeat of the Byzantine Empire led to a major turning point in the history of Cappadocia as Seljuks began to settle in the region. Cappadocia slowly became a tributary to the Turkish states that was established in the east and the west, and gradually, the city became converted to an Islamic state. By the end of the 12th century, Anatolian Seljuks had already established their full dominance through the region.
Later, around the 15th century, the Seljuk empire also fell and was replaced by the Ottoman empire of which Cappadocia was now part. The ottoman rules for centuries and is now part of modern Turkey. The Turks influenced the Cappadocian's way of life and even their language and by 1923, the original language of Cappadocia was only spoken by very few people.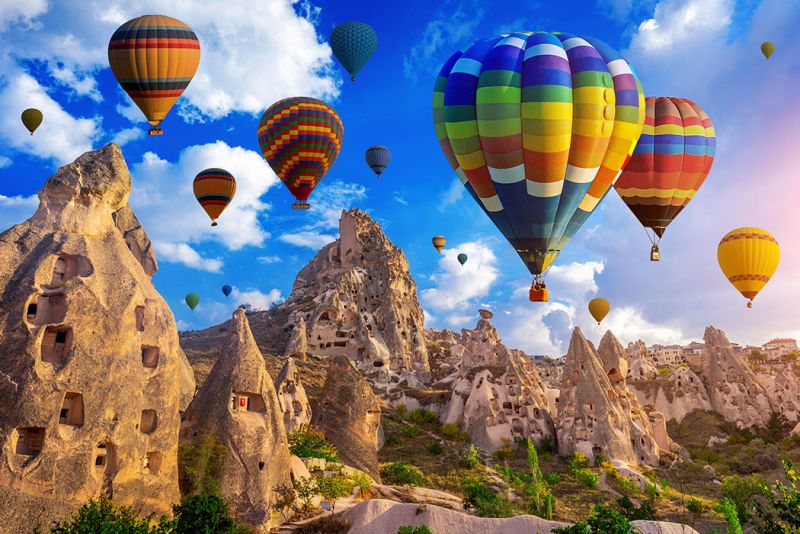 Weather and Climate

The region of Cappadocia has a relatively continental climate. The climate of the region is very hot and dry during summer, and during winter, it shifts to a cold and snowy climate. Rainfall is sparse ad the region is a relatively semi-arid region.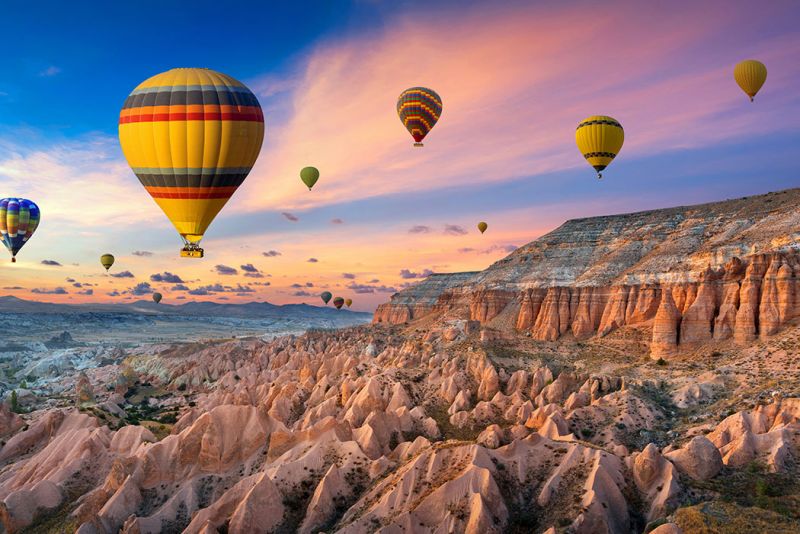 Culture and Tradition

Cappadocia is a place that is rich in local culture and wonderful tradition. Its cultures can be seen in the food, dance, music, and festivals in the region. Cappadocia is famous for its different unique dance, music, local food, festival and dance. These cultural traditional activities can be observed in almost all part of the city. Some of the traditional meals, music, dance, and festivals are listed below.

local meals

Gozleme
Pottery Kebab
Turkish Ravioli
Aside
Koftur

local festivals

Kaymaki Cream Festival
Aksalur Cherry Festival
Urgup Grape Harvest Festival
Cappadocia Annual International Mountain Bike and stage race festival.

local music

Music in Cappadocia evolved from the original folk form into classical through the emergence of a palace culture. It reached the tip of its hype in the 16th century through the composer "Itri". Some of the giants of Turkish classical music include "Dede Efendi" "Haci Arif Bey" and "tamburi Cemil Bey" among others.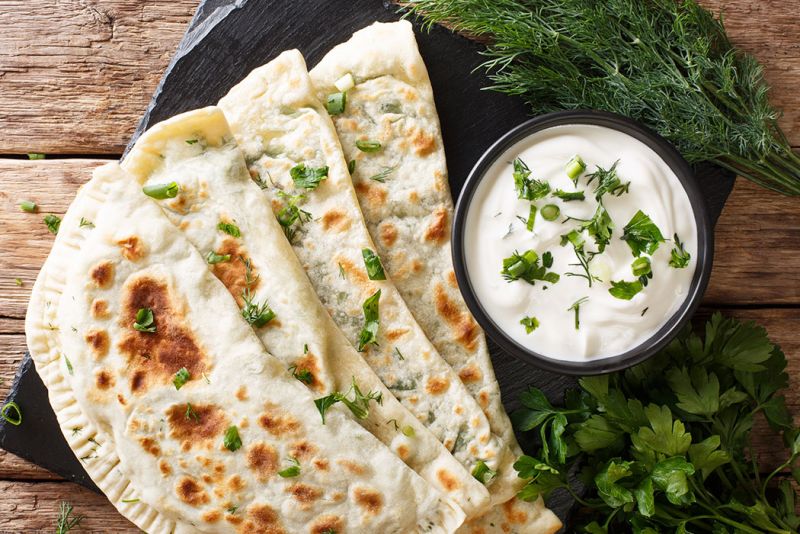 Attractions of Cappadocia

Cappadocia, being a very old city is blessed with a lot of historic, geological and cultural features and structures that tourists can visit. The most popular towns and destinations in Cappadocia include Nevsehir, Kayseri, Aksaray, and Nigde. These cities have a lot of tourist locations that people from all over the world come to visit. Here is an example of some other extremely interesting locations

Goreme Open Air Museum

Located outside the Goreme village, the Museum is a UNESCO protected site, it is a monastery cluster of rock-cut Churches and Monk-cells that hold fabulous frescoes. It dates back from the 10th to the 12th centuries.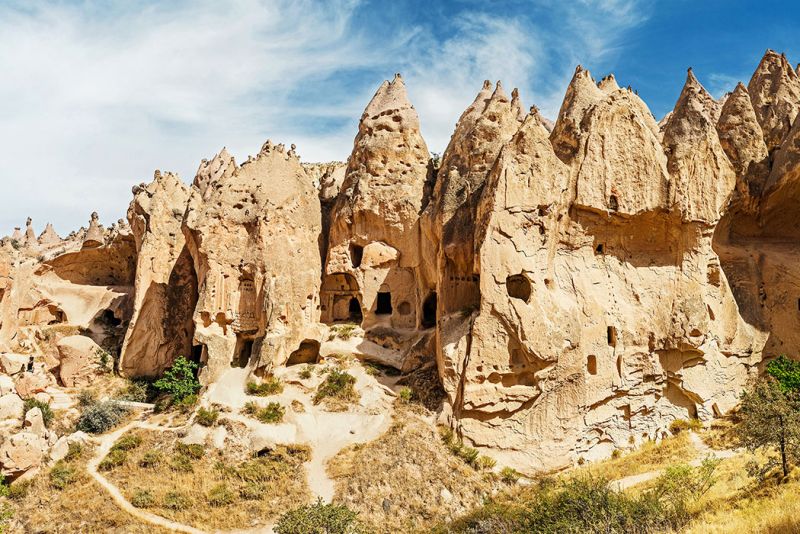 Kaymakli Underground City

This underground city had been in existence since the bronze ages during the Hittite era. Heading underground into a network of tunnels is a fascinating experience that you should not miss.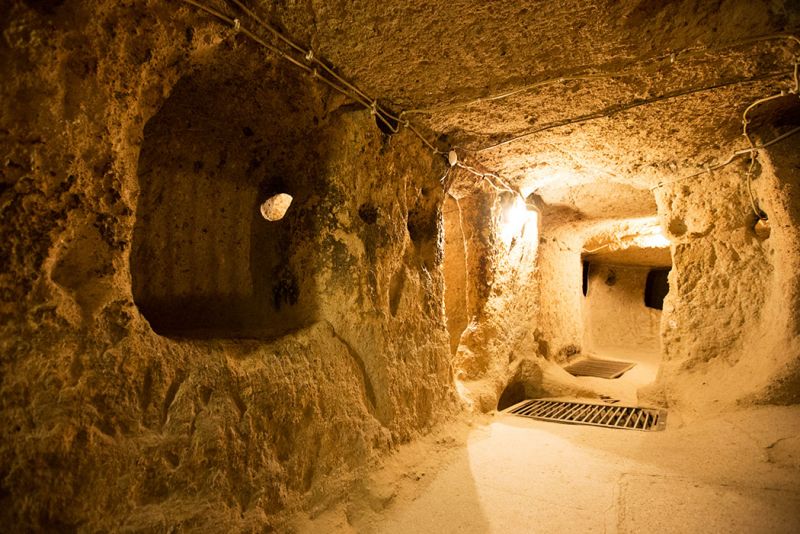 Cavusin

The main attractions in the small but beautiful village of Cavusin are the two old lovely churches that are located in the premises. Tourists travel to this area to pray and appreciate the wonderful artistic designs of the churches.

There are other interesting places and things to do in this wonderful city and one of them is Hot Air Ballooning which is a very common activity in the city. Hundreds of balloons take to the skies after sunrise and give the tourist a perfect view of the beautiful places in the city. Other places tourist visit in the Cappadocia includes Zelve Open Air Museum, Pasabag, Uchisar, Avanos and many more.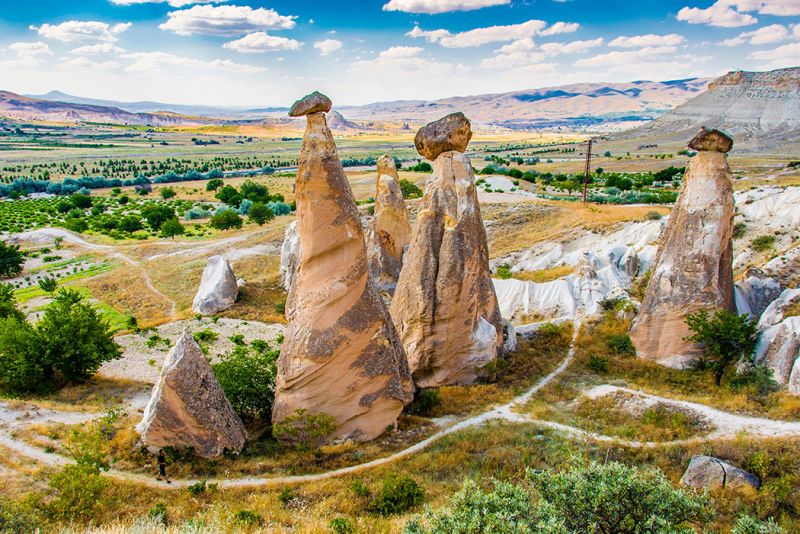 Travel Tips

As you travel to Cappadocia, ensure you comply absolutely with the rules and guidelines you are given by your travel instructors, do not be careless with important artifacts you might encounter on your journey and make sure you respect the locals you meet.

Also, to avoid complications, travel with a travel agency as this will guarantee you safety and also protect you from people that might want to take advantage of you still not knowing the ropes around town.
FAQs
Which places are a must to see in Turkey ?
Must Take a hot air balloon ride - Visit Topkapi Palace, Grand Bazar,Hagia Sophia Mosque,The Blue Mosque of Sultan Ahmed, Eyup sultan mosque Istanbul &The Green Mosque of Bursa
Is Turkey a Safe country?
Turkey is a very touristic country so it's safe and well secured and there are checking points everywhere to guarantee security, also Turkish people are kind and used to welcome tourists
What are necessary documents for entry visa?
Must have a passport valid for at least 6 months beyond the scheduled return date to enter Turkey and you can obtain a visa from Turkey Consulate before departure or you can make E-visa with fees 20 USD or 30 USD upon arrival, Additionally, Some nationalities don't need a visa to visit Turkey for the purpose of tourism for up to 3 months.
When is the best time to visit Turkey ?
The best time during summer due to the great weather, actually it is the high season in Turkey and there are so much activities to do during summer
What are the most famous typical dishes in Turkey that I should try ?
You Should not miss to try the Doner Kebabs (Shawarma), Simit, Menemen, Meze, and more Turkish food can make you unforgettable fabulous turkey tour.
Which currency can I use in Turkey?
The official currency of the Republic of Turkey is Turkish lira, however U.S. Dollar and Euro are widely accepted by large shopping centers, hotels, and restaurants at rates that are relatively close to the official ones. Make sure you know the current exchange rate of dollars or Euros to Turkish Lira (TL).
Can I use credit cards in Turkey everywhere?
Credit cards are widely used in Turkey in most places. The most common types of credit cards used in Turkey are Visa, Master Card, and American Express.
What about tips in Turkey ?
People who work in tourism usually depend on tips, as a major part of their income. Therefore, tipping is considered so great during your trip to express your satisfaction
How to book with Memphis Tours?
It's so easy , you just need to contact us explaining your needs and Memphis Tours will respond within 24 hours maximum with all details and for confirmation you will need to pay deposit and the rest of payment upon arrival
What is the payment policy of Memphis Tours ?
To make the booking process easier and less taxing & because your well being is our top priority, we have updated our booking conditions. The downpayment needed to secure your spaces including Hotel rooms, cruise cabins, domestic flights & other travel-related services is Just 10% of the Tour Cost. The remaining balance can either be paid two days before your arrival date or To your Tour manager upon arrival at your destination. You can pay the deposit for your tour using a credit card (Visa and Mastercard are accepted)
Does Memphis Tours make special rates for groups?
Sure, Memphis Tours provides discounts for private tours that are booked with large groups from ten people to above.
Is there a certain clothes to wear during visiting a mosque/religious sightseeing in Turkey?
There aren't certain clothes to be wear but the modest dress covering the body and hair for women would be highly recommended
Should I take certain vaccinations before travelling to Turkey?
There are no obligatory vaccinations that should be taken before . However, it would be recommended for the elder people and for young children to take vaccinations against Hepatitis C, Typhoid, and an oral dosage of Tetanus.
Is It possible to take photos in street?
Yes sure you can but it's better to ask permission before taking a photograph of people, especially women, and stores or products. Photography is prohibited around army bases, airports, dams, and bridges. If you happen to be in a place where photography is prohibited, you will sure find signs to notify you gently.
Can I cancel my trip and take refund?
we offer one of the most flexible cancelation policies around in case a warning from or to your departure/destination country is issued by the government or airline company. In the event of this happening the paid amount will be refunded in full because we want our cancelation policy to show how important your safety and well being are to us.
Should I learn Turkish before travelling?
You don't need to learn Turkish if you can speak English however also our tour guide will be with you during all excursions. It is always a better experience to learn a few words from the land-native-language to express greetings or thanks.
Is it possible to make a combined tour including other destinations in addition to Turkey?
Sure, it's possible to add Greece or Egypt
Travel Experience Since 1955

Memphis Tours is one of the pioneers which have great impact on travel industry for more than 55 years of experience.

Personalized Travel Services

Whatever your travel dreams, together we can custom-design the perfect itinerary with highly personalized services just for you

We Speak Your Language

A multilingual website offers content in 6 different languages English, Spanish, Portuguese, French, Italian and German

Flexibility to Change

We know how important it is for travellers to have the flexibility to change their itinerary due to some reasons or force majeure

Your Safety and Security

A professional will accompany the guests to all of the places; they will never be left alone to fend for themselves

High Quality Service

We do believe honestly that quality should come first and quantity would come later and our main objective focused on (Quality is our Top Priority)

Customer Service 24/7

We offer Customer Support 24 hours a day, 7 days a week by phone and email for questions about our tours and services

Support Sustainable Tourism

We are attempting to make a low impact on the environment and local culture, while helping to generate future employment for local people

Secure Online Payment

Our website is protected by the world′s most secure online payment system VeriSign Secure

Secure Website by MacAfee

Memphis Tours website is a McAfee Secure site that helps keep you safe from identity theft, credit card fraud and spyware