Safaga Port Red Sea Egypt
Safaga, renowned for its unpolluted atmosphere, black sand-dunes and mineral springs (Wellness & Spa)
Windsurfer53 kilometres south of Hurghada stands Safaga, an ancient marine port well-known for its unpolluted atmosphere, black sand-dunes and mineral springs.
The town has built a great reputation as a wellness and spa resort visitors have a wide choice of very high-quality facilities. A favourite watersports destination for windsurfers, kitesurfers and scuba divers, Safaga is a relaxed and laid-back destination more suited for those who love to take part in diving and other sports during the day and prefer beach parties to large nightclubs by night.
It also makes a perfect base for sightseeing, with the desert to the west holding as many treasures on dry land as the Red Sea holds beneath its surface to the east.
Safaga itself is a sizeable Egyptian town which built up around its port, built because of Safaga's proximity to the ancient gateway through the Red Sea Hills to the Nile, used as far back as during the time of the Roman Empire.

Having retained much of its local colour and feel, visitors will find local shops and markets selling souvenirs as well as more traditional goods such as spices, local food and crafts.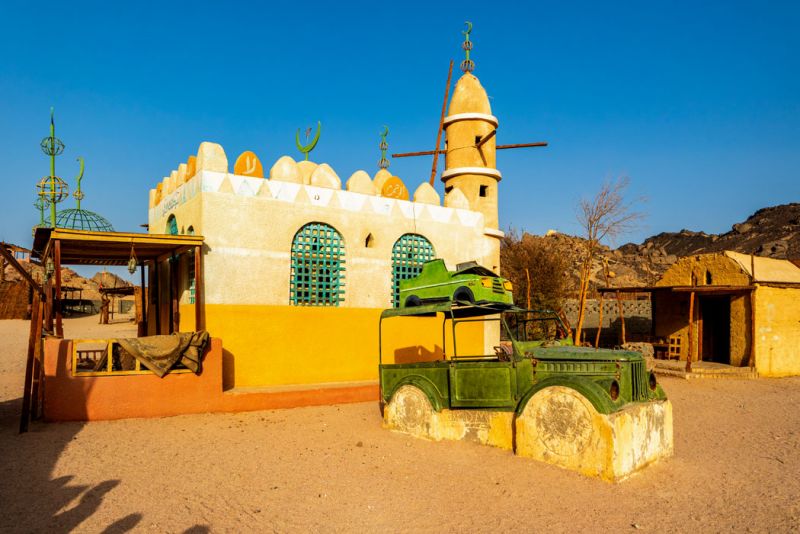 In and around Safaga there are a number of resorts, offering essential Red Sea activities such as windsurfing, kitesurfing, snorkelling, swimming, sunbathing, and of course scuba diving. Clear waters and beautiful sandy beaches meet at the shoreline to make Safaga a perfect spot for a relaxed holiday off the beaten track, but with the facilities and activities one would expect of a much larger and busier resort.
Peaceful dives sites
Diving from Safaga is varied and interesting, the dive sites are peaceful and the coral is unspoilt. A key feature for groups travelling to Safaga is that there are sites for all levels of diver here, with shore dives on the house reefs for beginners and some deeper drift dives offshore for the more experienced.
Dive schools operate here, and guests can combine the relaxation of a holiday by the beach with an opportunity to gain knowledge and experience as a diver in some of the best dive spots in the world.
The coral reefs are characterized by pinnacles, slopes, grottos and overhangs and all are well populated with a startling array of marine life.
Adventurous day trips
Day trips away from the sea can take adventurous types out into the desert, where it is possible to travel by four-wheel drive or to ride your own quad bike out into the landscape, taking in spectacular vistas of sand, rocks, oases and mountains, before visiting a Bedouin village and riding in the Egyptian desert on a camel, sure to become a lifelong memory and a tale to tell when you return home.
The visit culminates with guests enjoying a barbecue dinner whilst being entertained by traditional Bedouin music, before setting off back by quad bike or jeep to Safaga. These tours can be half day or full day trips.
Quad adventure
It is also possible to explore unexpected historical treasures from the time of the Roman Empire (like the Mons Claudianus an old Roman granite fortress complex lying just 40km from Safaga), or even take a trip to the south and Luxor, with its incredible ancient temples and other historic sites.
In all hotels in Safaga, you will find watersport and diving centres hiring snorkelling equipment, and organising guided and non-guided snorkelling trips to the best places in the area. They also cater well for children, with professional guides teaching youngsters how to use a snorkel, mask and fins, which will teach them the skills needed for an experience they will always remember.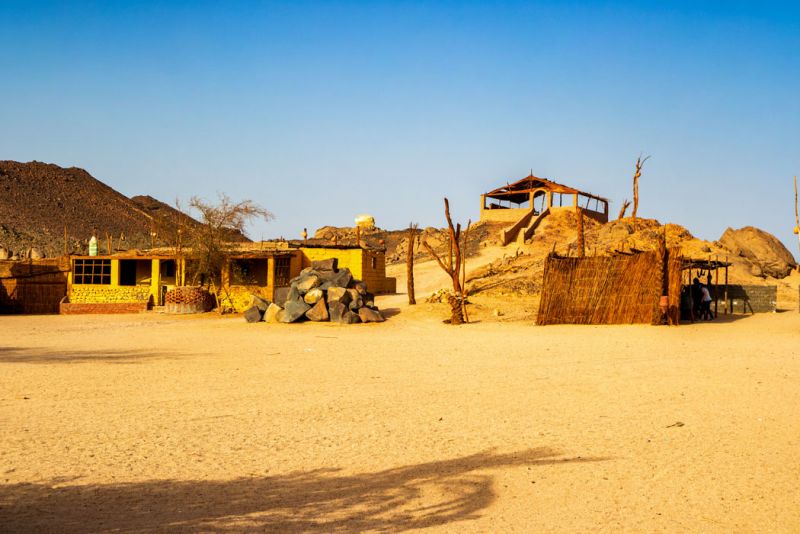 TOBIA ISLAND
Tobia Island, a small sand bank island in the middle of the bay of Safaga, is a popular excursion from Safaga's hotels and resorts.
The island is an ideal spot to spend a day at sea aboard one of the many day excursion dive boats. Hotels, diving and aqua centres in Safaga offer half day or full day excursions to the island, which is a wonderful site for snorkelling and observing the outstanding coral heads in shallow water, which make snorkelling easy, fun, and great for children. A full day excursion generally includes lunch on board the boat, and the use of snorkelling equipment.
For those who would rather take on some of the best diving in the area, the dive boats also travel to some locations where a single trip can let you experience many different types of dive, from sandy shallows to towering coral pillars.
Ras Abu Soma
Clown fishRas Abu Soma is located off Soma Bay, close to Safaga. There is a large lagoon here, and this site is easily accessible from the shore, where in recent years a 300 metre jetty has been built. Giant moray eels frequent the area, as well as cuttlefish, clown fish and octopuses. This spot offers varying degrees of adventure, with a long, sandy slope before the wall drops away into the depths. As you head to the north the sandy slope becomes thinner, until it eventually joins the main reef wall. Shortly before this is a small cave or overhang which goes a short distance into the coral reef. Heading back to the south you can finish your dive over the sand plateau where blue spotted rays and even the occasional eagle ray may pay you a visit. With ever-present clown-fish in their anemones and all the colourful marine life this site has to offer, this is a very pleasant dive suitable for all levels of diver.
With diving like this, trips to the desert, and a relaxed atmosphere away from the hustle and bustle of the larger resorts, Safaga makes an ideal getaway for busy people who would like to experience some fun and adventure whilst slowly winding down from the stresses of everyday life.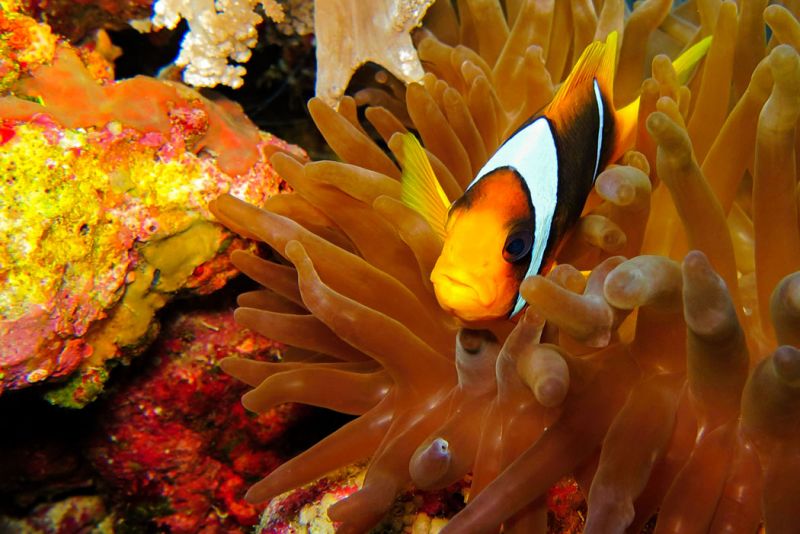 FAQs
Is Egypt safe, considering the spread of the Corona virus ?
Yes. Egypt is safe and it hasn't registered any cases of infected people. One case of a foreign national was recently announced as the first case of Coronavirus in Egypt but results came negative. Egyptair has temporarily suspended all flights to China, and the Egyptian Government has adopted a prevention plan that covers all the measures, from detection to public awareness.
Is Egypt considered a safe destination?
You know a country is safe when you're able to stroll its streets without a care in mind soaking in your surrounding and enjoying the local's hospitality. Egypt has always been and still is one of the Safest Tourist Destinations in the world. In addition, the safety of our customers is a top priority in all our Egypt tours, Egypt Holiday's pyramids and Nile Cruise and every trip to Egypt we offer as Memphis Tours Egypt, a local service provider in the Travel Industry.
Why choose Memphis Tours Egypt?
Memphis Tours Egypt is a Local Travel operator that has been leading the Egyptian Travel market since 1955. We offer unique and diversified Egypt holidays pyramids and Nile cruise, Egypt Tours & other Egypt Packages. Moreover, we guarantee you an exceptional Egypt Travel Experience with Guided tours, amazing sightseeing, visits to some of the most captivating monuments of the ancient world and more modern times Such as the temples of Kom Ombo, the Aswan high dam and the Light and sound show at abu Simbel among others, exceptional accommodation & transportation from the start till the end of your trip to Egypt.
Do you provide a discount for private groups traveling with Memphis Tours Egypt?
Yes, Memphis Tours Egypt offers reduced rates for private Egypt Tours & Egypt holidays pyramids & Nile Cruise Trips for large groups. To get a discount rate, the group should consist of at least ten people, and the rate varies according to the type and the length of the trip. As for groups of at least fifteen people, you will be offered higher discount rates for your visit to Egypt.
How much should be the deposit & How can it be paid?
To make the booking process easier and less taxing for you we have updated our booking conditions. The downpayment needed to secure your spaces including Hotel rooms, cruise cabins, domestic flights & other travel-related services is Just 10% of your Egypt Tour Cost. The remaining balance can either be paid two days before your arrival date or To your Tour manager upon arrival at your destination because your Safety and well being is our top priority. As for payment methods all payment methods are available where it be Visa Card, Master Card or American Express Card.
Is there any additional fees if I paid using a debit or credit card?
The answer is definitely No, Memphis Tours Egypt does not add any further fees or surcharges for using credit or debit card transactions on any of our group, private, combined packages or day tours.
How can I acquire my Visa in order to Visit Egypt?
A Passport valid for a minimum period of 6 months is needed to start your trip to Egypt. However, for some nationalities, a one-month entry visa will suffice. The aforementioned nationalities are Canada, Australia, Croatia, Republic of Korea, European Union, Georgia, Ukraine, Japan, New Zealand, Norway, Macedonia, Russian Federation, Serbia, United Kingdom and the United States.
What are the available means of transport in Egypt?
Egypt is filled with different means of transportation to help you get from point A to Point B. Without a doubt, the most abundant form of transportation is the white taxi. However, they do have a tendency to not use the Gps in calculating the distance or ask for an extra taxi Fair. A Better alternative when you visit Egypt is Uber and Kareem that provide transportation solutions with practically the same cost. Another way of moving Around in Egypt is underground transportation aka the Metro, an extremely accessible & popular option especially when the streets get busy.
Do Egyptians only speak Arabic?
Normally, the majority of Egyptians are aware & manage to utilize most of the basic terms and phrases needed for smooth communication. Yet the same can not be said about the English, French, Spanish, Italian and German languages. However many of our guides and other travel guides are becoming more proficient with the language making your tours & trips to Egypt that much easier.
Is it recommended to give tips in Egypt?
Service charges are included in the bill when dining in a restaurant. However, the bigger share of the revenue goes to the Restaurant and not the waiters. With the previous knowledge tipping as a practice is equal parts favourable and courteous to directly tip the servers with an extra 10 %. This could be travel advice.
Will I need to learn Arabic for my Egypt Visit?
It's definitely useful to have a command over some basic phrases and terms of speech and Egypt is no exception. However, this is not a must but Expanding on your index of Arabic terms is definitely a great way to make your trip smoother.
Are there different categories of hotels available in Egypt? And what is the check-in-time system?
Egypt is Filled with Several Categories & Levels of accommodation to suit all of our Egypt Packages and desired Egypt travel experiences. Allowing you to spend a nice vacation in Egypt on your chosen packages. The usual check-in time is 12:00 PM - 13:00 PM however it is preferable to check by contacting the hotel itself.
Is it permitted to take pictures of the attractions in Egypt?
In Egypt, photography is allowed in the majority of attractions & museums. However, some places apply an extra charge for taking pictures while others prohibit the use of cameras entirely, such as the Valley of the Kings in Luxor. Is it permitted to bring in cigarettes and alcohol when heading to Egypt? It is favourable to buy them upon arrival from the airport's duty-free shops. There are many such shops selling a rich variety of cigarettes and alcohol in the airports of Cairo, Luxor, Hurghada, El Gouna and Sharm El Sheikh. It is permitted to purchase up to 3 litres of alcohol and up to 200 cigarettes.
Is it permitted to bring in cigarettes and alcohol when heading to Egypt?
It is favourable to buy them upon arrival from the airport's duty-free shops. There are many such shops selling a rich variety of cigarettes and alcohol in the airports of Cairo, Luxor, Hurghada, El Gouna and Sharm El Sheikh. It is permitted to purchase up to 3 litres of alcohol and up to 200 cigarettes.
How should we dress in Egypt while visiting a mosque?
It's very likely that you visit mosques on one of our tours to Egypt, the way to go here is a simple and more conservative outfit. In some mosques, women have to cover their hair, arms and legs as a gesture of respect to this holy place. Moreover, both genders are required to remove their footwear before entering the prayer area of the mosque.
Are there any health tips to consider before heading to Egypt?
The weather in Egypt tends to lean towards the hotter spectrum in extreme cases a sunburn or sunstroke is possible. However, a basic Sun protection kit of sunscreen, sunglasses & headwear on hand throughout your trip to Egypt is more than enough to make the best of your Egypt Holidays pyramids and Nile Cruise
at what time during the day are the attractions open in Egypt?
Generally, historical landmarks and museums in Egypt are open from 9 AM to 5 PM. The Pyramids of Giza and all the open-air landmarks open their gates from 8 AM until sunset. As well as, there are a few museums open for two shifts: a morning shift starting from 9 AM to 4 PM and an evening shift from 5 PM to 9 or 10 PM. It is notable that during Ramadan, these schedules change according to the circumstances of this holy month.
When is the Best time to visit Egypt?
Choosing the right time to visit the ever-charming land of the pharos can either make or break your Egypt Holidays pyramids and Nile Cruise Experience. Although describing the Suny & Clear weather of Egypt as heavenly would be an understatement, The Best time to visit Egypt would depend on what you want to do on your Trip. The best time to plan your trip to Egypt If you want to go on a Nile Cruise through Cairo, Luxor, Aswan, Abu, and Simbel and Kom Ombo and others, would be between October & April with temperatures being just right and well within the manageable range to explore the Great archaeological sites such as the valley of the Kings . If you're Looking for a coastal experience or the Red Sea then you should plan your trip to Egypt to be between June to September. For example, it's around 84 degrees Fahrenheit in Hurghada and the sea temperature is around eighty degrees Fahrenheit, ideal temperatures for snorkelling & scuba diving. Despite being the Peak of Summertime in Egypt cities closer to the Coast tend to fare better than those more inland. Bearing in mind that it's advisable to book in advance especially in July & August. As for those who love the serene calm of the Desert It's definitely a good idea to avoid deserts in the summer with temperatures exceeding 140 degrees and plummeting to below freezing routinely in Siwa for example. The prime time to explore the deserts of the pharos would be either between February to April or September to November.
Are there any tips for women during their Egypt Tours & Egypt packages?
It is preferred to woman to wear comfortable modest outfits, especially in non-touristy places and generally avoid exaggerated tight clothing and to cover their shoulders and knees, and avoid opened front necklines. In the end your free to wear as you please but with consideration to Egypts local norms. It is important to bear in mind that the metro are divided into female and male carts with the first being better for female passengers in times of Rush-Hour.is recommended wearing comfortable and modest outfits, especially in non-touristy places. Women are entitled to avoid exaggerated tight clothing and to cover their shoulders and knees, and avoid too opened front necklines. Thus, travellers can wear whatever they want but in respect to the Egyptian culture. It is important to note that there is a separate car for women in the Metro, and it is preferable for women to use it, especially during rush hours.
How much should I pay as tips?
While Dining in a restaurant the norm is an average of 5 to 10% tip directly to the waiter. It is optional to give a few Egyptian pounds when carrying luggage or parking a car or to the person who is responsible for cleaning bathrooms, with a maximum limit of 5 Egyptian pounds. Tipping your designated tour guide and Driver is up to you but is highly appreciated in case of a Satisfactory experience. All in all, when giving a tip determining the amount is your decision to take
What are the best things to do during my trip to Egypt?
Egypt has a neverending supply of things to do, places to be & people to meet. If you are planning to visit Egypt. An essential pitstop in your Egypt Travel Experience has to be the capital and beating heart of Egypt, Cairo. In which, you will get to visit the wonders of the ancient world in the Great Pyramids of Giza, Cairo Citadel, Abu Simbel and Kom Ombo amongst others. Another must-see attraction is the Egyptian Museum. One of the essential parts of a true & authentic experience is the historical Al-Moez street. If you are seeking for an unforgettably relaxing yet value-packed vacation in Egypt, you will have to go on an exceptional cruise down the Nile. Pick and choose one of our Nile cruise boats and traverse the pristine, unspoiled waters of the Nile. Not only will you cruise the Nile surrounded by beauty, but you will also get to Explore the history of the Pharaohs making it one of the most enjoyable trips in Egypt. Another Unmissable part of our Egypt Tours is its Beaches, with a plethora of Coastal Cities and beach venues such as Sharm-el-sheikh, Hurghada, Dahab and many more.
What are the best places to visit in Egypt?
The beauty and secret behind Egypt's solid and Continuing positive reputation as a great Tourist destination comes mainly from the diversity and multitude of things to do and places to see amongst other factors such as the warm Egyptian hospitality, great food amongst others. Answering a question like where the best places to visit in Egypt are will mainly be determined by what you want to get from your trip or the experience that your seeking. If you are looking for an adventure in the ancient world of the pharaohs and ancient ancestors of the Egyptians then your best bet is Visiting Citys such as Cairo, Luxor, Aswan, Kom Ombo and Abu Simbel that host some of the key attractions such as The Great Egyptian Museum, Pyramids of Giza, ancient temples of Kom Ombo and Luxor among others. Another great alternative is a Nile Cruise onboard the Nile Cruiser of your choice that that usually includes all the aforementioned Locations. If you're looking for a more coastal centric experience with picturesque beaches, clear sunny weather, and plenty of activities then including places such as Hurghada, Sharm El- Sheikh, Dahab, El- Gouna amongst others. All the previously mentioned are not just amazing places with equally amazing company but they are also Sought ought by divers from around the world for their rich aquatic life and multichromatic coral formations and species. Last but not least if your in for a Desert adventure through fields of Sands and a warm campfire under the Stargazzed sky then the Sina Pinesula and the Deserts of the Red Sea is the place to go
What are the most must see historical mosques in Cairo?
The alternative and mostly Locally known nickname of Cairo "the city of a thousand minarets" is due to it being home to a considerable Large amount of truly Remarkable and Historical mosques which are all accessible to tourists every day except Friday. Most Popular amongst the plethora of mosques in Egypt is that of Mohamed Ali in the Saladin Citadel which was constructed at the beginning of the 19th century, second, are the Sultan Hassan and El Azhar Mosque, the first built-in 1361 AD and the second built-in 970 AD after which it was restored and enlarged many times. The third is the first recorded mosque to be built in Africa, the mosque of Amr Ibn El Aas that was established in 640 AD, Last but Not least are the mosques of Ahmed Ibn Tulun and the mosque of Amr Ibn El Aas with the first being built 878 AD and the Second in 1013 AD Respectively.
will i need to learn Arabic in order to enjoy my visit to Egypt?
Many travellers enjoy their stay in Egypt without learning a single Arabic word or phrase. Nonetheless its never a bad idea to learn a couple of words and phrases from the native language of your destination, in this case, Arabic such as words expressing greetings or thanks. If you are planning to visit some places other than the popular tourist destinations, it is advisable to learn some Arabic phrases. If you are not able to do this though, don't worry, Generally, Egyptians are friendly and are happy to lend assistance and help you out at any time, especially to foreigners and tourists, language barrier and all.
Will I be able to exchange dollars, Euros, or other currencies in Egypt?
You will definitely be able to exchange the local currency of the Egyptian pound with dollars, euros, Sterlin pounds amongst others and vice versa. This exchange can be done through banks or exchange offices, both available and abundant in large numbers in Egypt. Moreover, many restaurants, bars and touristic shops accept dollars and euros for a near similar rate to the official exchange rate. It won't hurt anyhow to familiarize yourself with the exchange rate of your currency.
How common is the use of credit cards in Egypt?
Egypt is rapidly evolving and embracing the new era of technology and non-physical means of payment. Credit cards are widely used in several Shops, restaurants, cafes and the majority of the stores in the market. The previous statement applies to both non-touristic market places and more tourist ones such as Khan el Khalili and the Luxor tourist market amongst others. The most used Credit cards in Egypt are Visa, Master Card & American Express.
Travel Experience Since 1955

Memphis Tours is one of the pioneers which have great impact on travel industry for more than 55 years of experience.

Personalized Travel Services

Whatever your travel dreams, together we can custom-design the perfect itinerary with highly personalized services just for you

We Speak Your Language

A multilingual website offers content in 6 different languages English, Spanish, Portuguese, French, Italian and German

Flexibility to Change

We know how important it is for travellers to have the flexibility to change their itinerary due to some reasons or force majeure

Your Safety and Security

A professional will accompany the guests to all of the places; they will never be left alone to fend for themselves

High Quality Service

We do believe honestly that quality should come first and quantity would come later and our main objective focused on (Quality is our Top Priority)

Customer Service 24/7

We offer Customer Support 24 hours a day, 7 days a week by phone and email for questions about our tours and services

Support Sustainable Tourism

We are attempting to make a low impact on the environment and local culture, while helping to generate future employment for local people

Secure Online Payment

Our website is protected by the world′s most secure online payment system VeriSign Secure

Secure Website by MacAfee

Memphis Tours website is a McAfee Secure site that helps keep you safe from identity theft, credit card fraud and spyware