Ramadan in Egypt | Ramadan Traditions in Egypt
Ramadan in Egypt
Ramadan Traditions
Ramadan Decorations
The Drummer
Ramadan Food
Ramadan's Drinks
Ramadan 2020 | Next Ramadan
Egypt's Spirit in Ramadan
Ramadan is the ninth month of the Muslim lunar year, it is a time of fasting, blessings and prayers to commemorate the revelation of the first verses of the Qur'an to the Prophet Muhammad by the Holy Spirit Gabriel. It is a time when Muslims refrain from eating during daylight hours as an act of sacrifice that reminds them of the challenges of the poor.
The daily meals become limited to two, the first of which is the "iftar" which is breaking the fasting that takes place immediately with sunset. The timing of the second meal - "sohour" - is variable according to personal preference, but
usually delayed as much as possible until just before dawn. In between "iftar" and "sohour", people are allowed to eat
and drink liberally.
After breaking the fast at sunset, the city comes to life with different activities, shopping malls and at the hotels, where Ramadan theme tents are set up and folkloric entertainment is held on a nightly basis. Sitting in one of the cafes on the Nile is also very pleasant, where there is light entertainment and good food offered. The mosques are all lit up, shops are open almost all night, the streets are decorated in Ramadan themes, and the food displayed in the shops is the customary offered especially during the holy month.
Egypt has a different flavor during the holy month. As August tends to be a warm month, it is best to plan the schedule where the most famous ancient and religious sites in Egypt are to be covered earlier in the day, followed by museums that tend to open a little later during Ramadan.
As the day gets warmer, the shopping malls such as City Stars in Nasr City suburb or First Mall in Giza, are a delight
to browse around in, where local and famous brand merchandise are displayed in shops, food outlets and other entertainment is available. There you will also find some of the better local handicrafts.
As the evening approaches and the city come to life, visitors should enjoy browsing around the medieval streets of Cairo. Especially streets like Mu'ezz Eddin, Azhar and Khan El Khalili areas, Fostat in Old Cairo, and the famous gates and walls of Islamic Cairo. Alexandria city also has its atmosphere during Ramadan, where the sidewalk cafes by the sea, a walk on the Corniche or a visit to Anfoushi - the fishermen's area - and El Attarin where antique furniture and trinkets are sold, whether you are there, day or night, it is a delight. In the evening, a visit to the famous mosque, Morsi Abul Abbas area where themed-decorations are hung everywhere, is a must.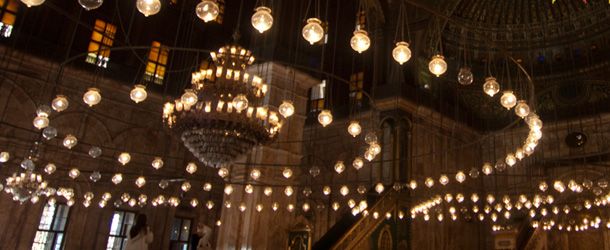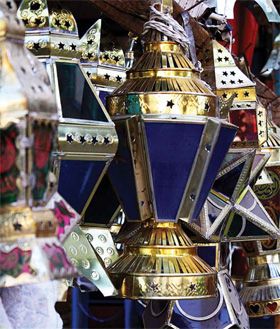 The month of traditions
Ramadan is an inspiring tradition that reflects well on Islam. Muslims give food and money to the poor, as well as to travelers who cannot otherwise stop to eat when it is time to break their fast. Food is supplied by many different groups, including wealthy individuals, restaurants and other foundations, often setting up tables along the streets for this purpose.
Ramadan is the magical month that is accompanied by all the mysterious customs that have become associated with Ramadan, often has no intrinsic link to religion.
Among those are:
Fanoos Ramadan or Ramadan Lantern

One of the visible sites of the month, that is distinctly an Egyptian tradition, are the colourful lanterns found displayed in many shops. As the month approaches, people buy the lantern to decorate their homes and children expect to get one to play and sing Ramadan songs with, while swinging their glowing lanterns. The lantern is often made from recycled tin cans and most recently there are displayed plastic lanterns that play the latest popular music.

Many stories of its origin have been told. One of the popular stories has it that a Fatimid Caliph wanted to light the streets of Cairo during Ramadan nights, so he ordered all the sheikhs of mosques to hang Fawanees that could be illuminated by candles. As a result, the Fanoos became a custom that has never been abandoned.

To see a large display of "Fanoos Ramadan" and where it is originally made, you should go towards the 11th-century city gate of Bab Zuweillah in the vicinity of the Islamic Museum and next to the Tentmaker's Bazaar. Part of Ahmad Maher Street where the tinsmiths and marble cutters have their shops is transformed into the Street of Lanterns during the month.
The best Online Antiques Store (Swan Bazaar): Where you can Find the most Unique Egyptian Souvenirs with Top Secured Payment methods and Door to door delivery.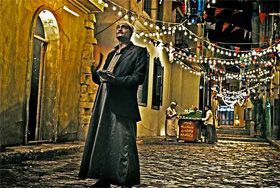 The Drummer
Each morning during the Islamic holy month of Ramadan, an hour or two before dawn, drummers (mesharati) tour the streets, hammering out a repetitive beat to wake people up to have their sohour (pre-dawn meal). This tradition dates back to the Ottoman era when people didn't have alarm clocks to wake them for sohour, drummers would walk through the streets beating their drums. They would also sing a rhyming couplet -- a reflection of the popular culture.
At the end of Ramadan, the drummers go to houses in their street to ask for money for the wake-up service they provided for the neighborhood during the whole holy month. Almost all phases of the drum-beating tradition, from walking through the streets beating the drum to singing rhyming couplets and collecting money, are still observed. This centuries-old tradition keeps ongoing as it carries the spiritual aspect of old Ramadan days.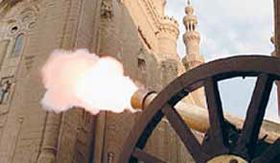 The Cannon and Breaking the Fast
The firing of the cannon from atop the Citadel is a tradition that all Egyptians wait for to break their fast at sunset. It may not be heard today all over, but people still enjoy turning on the television set to watch the cannon being fired before they all sit down to eat. Legend has it that this tradition started by Khedive Mohamed Ali (1805-1848) when he ordered a number of cannons for the Egyptian army, and so it happened that one cannon was accidentally fired during sunset in Ramadan and people then thought that this was a new tradition ordered by the Khedive.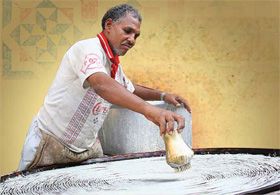 Ramadan Food

Desserts
For some reason, this month is associated with the sweet tooth, where most pastry shops and homes innovate in their creations of desserts.
Among these are the Baklava which is made of Phyllo dough and filled with either nuts, cream or ricotta cheese, The Basboosa with Semolina cake, Konafa with shredded dough, also filled with nuts or cream, and Qatayif that is pancake-like dough stuffed with nuts and deep-fried.
One of the interesting scenes during Ramadan is to watch the Konafa shop swirl the dough, round and round in a huge round open oven and produce a hair thin dough.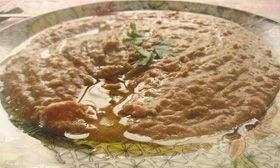 Main Meals

The two most important dishes on the table during Ramadan is the bean dish seasoned with olive oil and garnished with tomatoes and onions.
The other is a soup of any kind. People usually break the fast with the soup, since they have been fasting all day and need something light to start the meal with. Also, a medley of dried fruits such as prunes, raisins, and apricot in syrup, is another favorite during Ramadan.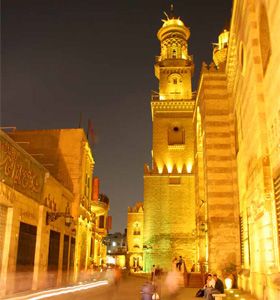 Ramadan's Drinks
Sweetened Karkadey (hibiscus rose petals), Erq Sous (licorice), Humous (chick pea drink), minted tea, Kamar El Din (dried apricot paste juice), Kharoub (carob), Tamr Hini (Tamarind), are the prevalent drinks found at most hotels and coffee shops during Ramadan. They are all thirst quenchers and contain a horde of vitamins.

A Walkthrough Cairo
Medieval Cairo is like walking through a time machine where you are transported back to Cairo's past Islamic heritage with its ancient mosques and forts. This is truly where you feel the spirit of Ramadan.

Where to go
Al Azhar is full of small shops where you will find all kinds of handicrafts from copper, tin, pottery, a whole carpet market, the tent makers, where you will find interesting designs to take back home, silver and gold jewelry and many other treasures, besides a visit to the Mosque Madrassa of Al Ghouri and mausoleum, both worth a visit, and the Al Azhar Mosque which is the world's oldest university.
Wekalet El Ghouri is a complex from the Mamluk era of Egypt that has now been turned into an entertainment place and where visitors can watch local folklore art and concerts in the evenings. This year visitors will enjoy watching the Tannoura show three times a week, as well as a music concert with traditional instruments.
In this area you will also enjoy browsing through the 14th Century Khan El Khalili Bazaar, the oldest and largest covered bazaar now existing. There you can find souvenir shops selling anything from papyrus paper, customized gold and silver cartouches, inlaid boxes and many other items to take home. During Ramadan, the bazaar is open to almost the early hours of the morning.
There are many ancient sites to visit, some are open during the day only and others such as mosques open in the evenings also. Cairo has some of the most architecturally interesting mosques including Abbasid, Fatimid, Ayyubid Mamluk and Ottoman styles, mostly concentrated in Medieval Islamic Cairo.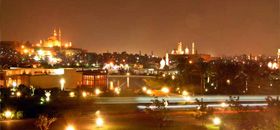 Azhar Park. Not far from the Azhar area is a mega project of a green park that is very well maintained with several food and drink outlets, including the Hilltop Café that offers an excellent view of Cairo. In the evening, El Geneina Theatre located inside the park offers good entertainment from local and foreign artists. Rock music, Hip Hop and Rap, vocalists and poetry, are offered there.
However, during Ramadan, local folklore, plus folklore from Lebanon, Palestine, Jordan and Morocco will be the main entertainment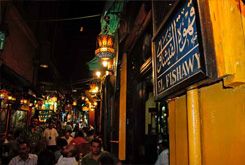 Fishawy Cafe Visitors should take advantage of being in the Azhar area during Ramadan and experience this famous two-century-old café. Waiters balancing trays of minted tea and the clanging of glasses that is part of the fun, while sitting and watching passersby at a traditional Egyptian café.
Al Hussein in Azhar That may be an experience on its own, walking through the area with the shops open all night, watching people enjoying life after breaking the fast and experiencing the taste of feteer (Egyptian pancakes) at the Pancake shop served with sugar and honey or with several kinds of cheese.
Darb al-Ahmar (Red Road) This area of Islamic Cairo was built up in the late Mamluk era and this is one of the finest examples of the era's architecture. Though plain on the outside, inside is wonderful stained glass windows, inlaid marble floors and stucco walls.
Ramadan on the Nile Many of the open-air cafes is a fun place to spend the evening where there is light entertainment and snacks with a spectacular view. Among those would be Kholkhal and Rotana Cafes in front of the Cairo Marriott Hotel, The Blue Nile Boat, Seqouia in Zamalek, Sangria in Maspero, Le Pacha Boat in Zamalek and Saraya. Besides, some of the major hotels have their Ramadanthemed cafes directly on the Nile, as well as tents where traditional food and drinks and entertainment are offered.
A lot of tourists prefer to book Cruise in the Nile During Ramadan, the Nile Cruise sail from Luxor to Aswan visiting the top attractions

Islamic Style Houses in Medieval Cairo to visit
Beit Al Razzaz,in Darb Al Ahmar was constructed from the late 15th century through the late 18th century. Eighteenth century Beit Al Suhaymi in Gamalia is the finest example of the Ottoman era house now turned museum and originally built in 1648. Beit El Kritliyya which is the only fully furnished Arabic house in original pieces in Islamic Cairo. Beit El Harrawi built in 1731 is considered to be one of the fine examples of the Islamic houses representing the Ottoman Era, and Beit Sit Wasila next to El Harrawi is a 17th century example. Beit Zeinab Khatoun in Azhar built at the end of the 14th century, a remarkable house to visit, and Prince Taz Palace located on Suffiya Street is an example of a house in the Mamluk Era. Beit Gamal ad-Din built in 1637 is typical of Cairo's upper class of the 17th century.
Al-Muizz El-Din Allah Street
This street is named after the Fatimid Caliph who conquered Cairo in 969 AD and it was once the main route of this period where people used to enter the road from Bab Zuweila in the south and exit through Bab El Futuh in the north. Recently renovated and becoming a pedestrian street, it is a delight to walk through, day or night, and one of the most historical, representing Cairo's largest open-air museum of Islamic and medieval monuments where there are many monuments on the street to view besides Islamic edifices found along its neighboring alleys, including several important mosques and Sabils.
Not to miss on that street is the Textile Museum that displays 250 textile pieces and 15 carpets dating from the late Pharaonic era through Coptic and Islamic eras, including clothes from various times in the Islamic era.
FAQs
Is Egypt safe, considering the spread of the Corona virus ?
Yes. Egypt is safe and it hasn't registered any cases of infected people. One case of a foreign national was recently announced as the first case of Coronavirus in Egypt but results came negative. Egyptair has temporarily suspended all flights to China, and the Egyptian Government has adopted a prevention plan that covers all the measures, from detection to public awareness.
Is Egypt considered a safe destination?
You know a country is safe when you're able to stroll its streets without a care in mind soaking in your surrounding and enjoying the local's hospitality. Egypt has always been and still is one of the Safest Tourist Destinations in the world. In addition, the safety of our customers is a top priority in all our Egypt tours, Egypt Holiday's pyramids and Nile Cruise and every trip to Egypt we offer as Memphis Tours Egypt, a local service provider in the Travel Industry.
Why choose Memphis Tours Egypt?
Memphis Tours Egypt is a Local Travel operator that has been leading the Egyptian Travel market since 1955. We offer unique and diversified Egypt holidays pyramids and Nile cruise, Egypt Tours & other Egypt Packages. Moreover, we guarantee you an exceptional Egypt Travel Experience with Guided tours, amazing sightseeing, visits to some of the most captivating monuments of the ancient world and more modern times Such as the temples of Kom Ombo, the Aswan high dam and the Light and sound show at abu Simbel among others, exceptional accommodation & transportation from the start till the end of your trip to Egypt.
Do you provide a discount for private groups traveling with Memphis Tours Egypt?
Yes, Memphis Tours Egypt offers reduced rates for private Egypt Tours & Egypt holidays pyramids & Nile Cruise Trips for large groups. To get a discount rate, the group should consist of at least ten people, and the rate varies according to the type and the length of the trip. As for groups of at least fifteen people, you will be offered higher discount rates for your visit to Egypt.
How much should be the deposit & How can it be paid?
To make the booking process easier and less taxing for you we have updated our booking conditions. The downpayment needed to secure your spaces including Hotel rooms, cruise cabins, domestic flights & other travel-related services is Just 10% of your Egypt Tour Cost. The remaining balance can either be paid two days before your arrival date or To your Tour manager upon arrival at your destination because your Safety and well being is our top priority. As for payment methods all payment methods are available where it be Visa Card, Master Card or American Express Card.
Is there any additional fees if I paid using a debit or credit card?
The answer is definitely No, Memphis Tours Egypt does not add any further fees or surcharges for using credit or debit card transactions on any of our group, private, combined packages or day tours.
How can I acquire my Visa in order to Visit Egypt?
A Passport valid for a minimum period of 6 months is needed to start your trip to Egypt. However, for some nationalities, a one-month entry visa will suffice. The aforementioned nationalities are Canada, Australia, Croatia, Republic of Korea, European Union, Georgia, Ukraine, Japan, New Zealand, Norway, Macedonia, Russian Federation, Serbia, United Kingdom and the United States.
What are the available means of transport in Egypt?
Egypt is filled with different means of transportation to help you get from point A to Point B. Without a doubt, the most abundant form of transportation is the white taxi. However, they do have a tendency to not use the Gps in calculating the distance or ask for an extra taxi Fair. A Better alternative when you visit Egypt is Uber and Kareem that provide transportation solutions with practically the same cost. Another way of moving Around in Egypt is underground transportation aka the Metro, an extremely accessible & popular option especially when the streets get busy.
Do Egyptians only speak Arabic?
Normally, the majority of Egyptians are aware & manage to utilize most of the basic terms and phrases needed for smooth communication. Yet the same can not be said about the English, French, Spanish, Italian and German languages. However many of our guides and other travel guides are becoming more proficient with the language making your tours & trips to Egypt that much easier.
Is it recommended to give tips in Egypt?
Service charges are included in the bill when dining in a restaurant. However, the bigger share of the revenue goes to the Restaurant and not the waiters. With the previous knowledge tipping as a practice is equal parts favourable and courteous to directly tip the servers with an extra 10 %. This could be travel advice.
Will I need to learn Arabic for my Egypt Visit?
It's definitely useful to have a command over some basic phrases and terms of speech and Egypt is no exception. However, this is not a must but Expanding on your index of Arabic terms is definitely a great way to make your trip smoother.
Are there different categories of hotels available in Egypt? And what is the check-in-time system?
Egypt is Filled with Several Categories & Levels of accommodation to suit all of our Egypt Packages and desired Egypt travel experiences. Allowing you to spend a nice vacation in Egypt on your chosen packages. The usual check-in time is 12:00 PM - 13:00 PM however it is preferable to check by contacting the hotel itself.
Is it permitted to take pictures of the attractions in Egypt?
In Egypt, photography is allowed in the majority of attractions & museums. However, some places apply an extra charge for taking pictures while others prohibit the use of cameras entirely, such as the Valley of the Kings in Luxor. Is it permitted to bring in cigarettes and alcohol when heading to Egypt? It is favourable to buy them upon arrival from the airport's duty-free shops. There are many such shops selling a rich variety of cigarettes and alcohol in the airports of Cairo, Luxor, Hurghada, El Gouna and Sharm El Sheikh. It is permitted to purchase up to 3 litres of alcohol and up to 200 cigarettes.
Is it permitted to bring in cigarettes and alcohol when heading to Egypt?
It is favourable to buy them upon arrival from the airport's duty-free shops. There are many such shops selling a rich variety of cigarettes and alcohol in the airports of Cairo, Luxor, Hurghada, El Gouna and Sharm El Sheikh. It is permitted to purchase up to 3 litres of alcohol and up to 200 cigarettes.
How should we dress in Egypt while visiting a mosque?
It's very likely that you visit mosques on one of our tours to Egypt, the way to go here is a simple and more conservative outfit. In some mosques, women have to cover their hair, arms and legs as a gesture of respect to this holy place. Moreover, both genders are required to remove their footwear before entering the prayer area of the mosque.
Are there any health tips to consider before heading to Egypt?
The weather in Egypt tends to lean towards the hotter spectrum in extreme cases a sunburn or sunstroke is possible. However, a basic Sun protection kit of sunscreen, sunglasses & headwear on hand throughout your trip to Egypt is more than enough to make the best of your Egypt Holidays pyramids and Nile Cruise
at what time during the day are the attractions open in Egypt?
Generally, historical landmarks and museums in Egypt are open from 9 AM to 5 PM. The Pyramids of Giza and all the open-air landmarks open their gates from 8 AM until sunset. As well as, there are a few museums open for two shifts: a morning shift starting from 9 AM to 4 PM and an evening shift from 5 PM to 9 or 10 PM. It is notable that during Ramadan, these schedules change according to the circumstances of this holy month.
When is the Best time to visit Egypt?
Choosing the right time to visit the ever-charming land of the pharos can either make or break your Egypt Holidays pyramids and Nile Cruise Experience. Although describing the Suny & Clear weather of Egypt as heavenly would be an understatement, The Best time to visit Egypt would depend on what you want to do on your Trip. The best time to plan your trip to Egypt If you want to go on a Nile Cruise through Cairo, Luxor, Aswan, Abu, and Simbel and Kom Ombo and others, would be between October & April with temperatures being just right and well within the manageable range to explore the Great archaeological sites such as the valley of the Kings . If you're Looking for a coastal experience or the Red Sea then you should plan your trip to Egypt to be between June to September. For example, it's around 84 degrees Fahrenheit in Hurghada and the sea temperature is around eighty degrees Fahrenheit, ideal temperatures for snorkelling & scuba diving. Despite being the Peak of Summertime in Egypt cities closer to the Coast tend to fare better than those more inland. Bearing in mind that it's advisable to book in advance especially in July & August. As for those who love the serene calm of the Desert It's definitely a good idea to avoid deserts in the summer with temperatures exceeding 140 degrees and plummeting to below freezing routinely in Siwa for example. The prime time to explore the deserts of the pharos would be either between February to April or September to November.
Are there any tips for women during their Egypt Tours & Egypt packages?
It is preferred to woman to wear comfortable modest outfits, especially in non-touristy places and generally avoid exaggerated tight clothing and to cover their shoulders and knees, and avoid opened front necklines. In the end your free to wear as you please but with consideration to Egypts local norms. It is important to bear in mind that the metro are divided into female and male carts with the first being better for female passengers in times of Rush-Hour.is recommended wearing comfortable and modest outfits, especially in non-touristy places. Women are entitled to avoid exaggerated tight clothing and to cover their shoulders and knees, and avoid too opened front necklines. Thus, travellers can wear whatever they want but in respect to the Egyptian culture. It is important to note that there is a separate car for women in the Metro, and it is preferable for women to use it, especially during rush hours.
How much should I pay as tips?
While Dining in a restaurant the norm is an average of 5 to 10% tip directly to the waiter. It is optional to give a few Egyptian pounds when carrying luggage or parking a car or to the person who is responsible for cleaning bathrooms, with a maximum limit of 5 Egyptian pounds. Tipping your designated tour guide and Driver is up to you but is highly appreciated in case of a Satisfactory experience. All in all, when giving a tip determining the amount is your decision to take
What are the best things to do during my trip to Egypt?
Egypt has a neverending supply of things to do, places to be & people to meet. If you are planning to visit Egypt. An essential pitstop in your Egypt Travel Experience has to be the capital and beating heart of Egypt, Cairo. In which, you will get to visit the wonders of the ancient world in the Great Pyramids of Giza, Cairo Citadel, Abu Simbel and Kom Ombo amongst others. Another must-see attraction is the Egyptian Museum. One of the essential parts of a true & authentic experience is the historical Al-Moez street. If you are seeking for an unforgettably relaxing yet value-packed vacation in Egypt, you will have to go on an exceptional cruise down the Nile. Pick and choose one of our Nile cruise boats and traverse the pristine, unspoiled waters of the Nile. Not only will you cruise the Nile surrounded by beauty, but you will also get to Explore the history of the Pharaohs making it one of the most enjoyable trips in Egypt. Another Unmissable part of our Egypt Tours is its Beaches, with a plethora of Coastal Cities and beach venues such as Sharm-el-sheikh, Hurghada, Dahab and many more.
What are the best places to visit in Egypt?
The beauty and secret behind Egypt's solid and Continuing positive reputation as a great Tourist destination comes mainly from the diversity and multitude of things to do and places to see amongst other factors such as the warm Egyptian hospitality, great food amongst others. Answering a question like where the best places to visit in Egypt are will mainly be determined by what you want to get from your trip or the experience that your seeking. If you are looking for an adventure in the ancient world of the pharaohs and ancient ancestors of the Egyptians then your best bet is Visiting Citys such as Cairo, Luxor, Aswan, Kom Ombo and Abu Simbel that host some of the key attractions such as The Great Egyptian Museum, Pyramids of Giza, ancient temples of Kom Ombo and Luxor among others. Another great alternative is a Nile Cruise onboard the Nile Cruiser of your choice that that usually includes all the aforementioned Locations. If you're looking for a more coastal centric experience with picturesque beaches, clear sunny weather, and plenty of activities then including places such as Hurghada, Sharm El- Sheikh, Dahab, El- Gouna amongst others. All the previously mentioned are not just amazing places with equally amazing company but they are also Sought ought by divers from around the world for their rich aquatic life and multichromatic coral formations and species. Last but not least if your in for a Desert adventure through fields of Sands and a warm campfire under the Stargazzed sky then the Sina Pinesula and the Deserts of the Red Sea is the place to go
What are the most must see historical mosques in Cairo?
The alternative and mostly Locally known nickname of Cairo "the city of a thousand minarets" is due to it being home to a considerable Large amount of truly Remarkable and Historical mosques which are all accessible to tourists every day except Friday. Most Popular amongst the plethora of mosques in Egypt is that of Mohamed Ali in the Saladin Citadel which was constructed at the beginning of the 19th century, second, are the Sultan Hassan and El Azhar Mosque, the first built-in 1361 AD and the second built-in 970 AD after which it was restored and enlarged many times. The third is the first recorded mosque to be built in Africa, the mosque of Amr Ibn El Aas that was established in 640 AD, Last but Not least are the mosques of Ahmed Ibn Tulun and the mosque of Amr Ibn El Aas with the first being built 878 AD and the Second in 1013 AD Respectively.
will i need to learn Arabic in order to enjoy my visit to Egypt?
Many travellers enjoy their stay in Egypt without learning a single Arabic word or phrase. Nonetheless its never a bad idea to learn a couple of words and phrases from the native language of your destination, in this case, Arabic such as words expressing greetings or thanks. If you are planning to visit some places other than the popular tourist destinations, it is advisable to learn some Arabic phrases. If you are not able to do this though, don't worry, Generally, Egyptians are friendly and are happy to lend assistance and help you out at any time, especially to foreigners and tourists, language barrier and all.
Will I be able to exchange dollars, Euros, or other currencies in Egypt?
You will definitely be able to exchange the local currency of the Egyptian pound with dollars, euros, Sterlin pounds amongst others and vice versa. This exchange can be done through banks or exchange offices, both available and abundant in large numbers in Egypt. Moreover, many restaurants, bars and touristic shops accept dollars and euros for a near similar rate to the official exchange rate. It won't hurt anyhow to familiarize yourself with the exchange rate of your currency.
How common is the use of credit cards in Egypt?
Egypt is rapidly evolving and embracing the new era of technology and non-physical means of payment. Credit cards are widely used in several Shops, restaurants, cafes and the majority of the stores in the market. The previous statement applies to both non-touristic market places and more tourist ones such as Khan el Khalili and the Luxor tourist market amongst others. The most used Credit cards in Egypt are Visa, Master Card & American Express.
Travel Experience Since 1955

Memphis Tours is one of the pioneers which have great impact on travel industry for more than 55 years of experience.

Personalized Travel Services

Whatever your travel dreams, together we can custom-design the perfect itinerary with highly personalized services just for you

We Speak Your Language

A multilingual website offers content in 6 different languages English, Spanish, Portuguese, French, Italian and German

Flexibility to Change

We know how important it is for travellers to have the flexibility to change their itinerary due to some reasons or force majeure

Your Safety and Security

A professional will accompany the guests to all of the places; they will never be left alone to fend for themselves

High Quality Service

We do believe honestly that quality should come first and quantity would come later and our main objective focused on (Quality is our Top Priority)

Customer Service 24/7

We offer Customer Support 24 hours a day, 7 days a week by phone and email for questions about our tours and services

Support Sustainable Tourism

We are attempting to make a low impact on the environment and local culture, while helping to generate future employment for local people

Secure Online Payment

Our website is protected by the world′s most secure online payment system VeriSign Secure

Secure Website by MacAfee

Memphis Tours website is a McAfee Secure site that helps keep you safe from identity theft, credit card fraud and spyware