Meknes City Guide
Points Covered:
Its History
Location
Climate
Local Customs
Local Dishes
Places to Visit
Travel Tips
Meknes is one of the largest cities in Morocco with a population of about 600,000 people. Meknes is one of the four imperial cities of Morocco not only due to the fact that it served as the capital of the Alaouite dynasty (present morocco) but also because of the significance and influence the city has on the history of the country. We shall examine the history, culture, traditions and all other things you need to know about Meknes in this article.
History:

The History of Meknes can be traced back to the 11th century when the Almoravids founded the town as a military settlement for their various military campaigns. After the city had been founded, it continued to grow in political and economic power until it was made the capital by Sultan Moulay Ismail son of the Founder of the Alaouite dynasty in the 1600s. It was Moulay Ismail that turned Meknes into the impressive city it is today. He achieved this by constructing magnificent buildings and structures among which is the famous Bab Mansour gate which was built in a unique Spanish Moorish style that is unique to the city till this very day.
Meknes experienced a period of great economic success and development when its founder Moulay Ismail became the Sultanate of Morocco. A unique fact however about the development of this city under the reign of Ismail is that most buildings and structures that were constructed in Meknes during his reign were built by Christian slaves that he either captured in war or bought with money. About 1 million slaves were captured in about a hundred years period during the peak of Meknese's power. Even though Ismail later closed the slave markets during his reign, not for the personal benefit of those slaves, rather it was so that he could use them for his own objectives and set them to work on his beloved capital city.
Uncover the Hidden Secrets of Meknes with our Morocco Travel Packages starting at 1359$.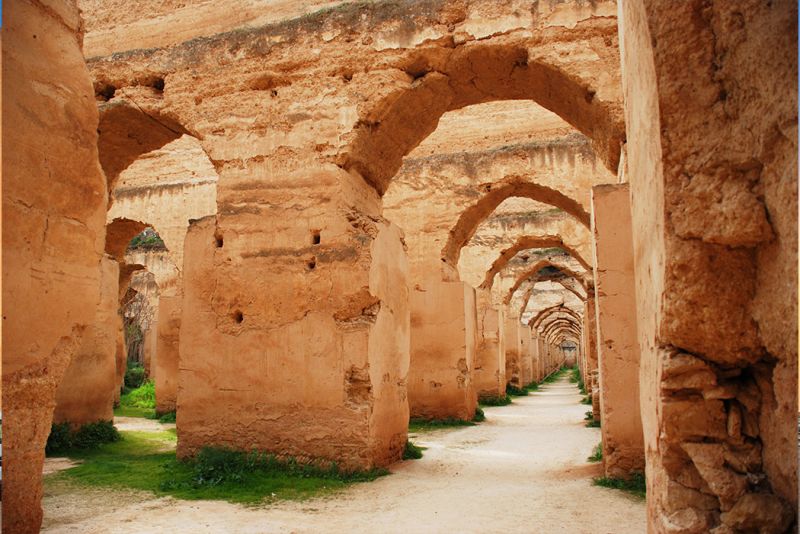 Location

Meknes is located on the highland plateau of North-central Morocco about 60km west of fez. At the south-east of Meknes are the beautiful rich cedar forests and the Atlas mountains, while to the west are the two largest metropolitan areas of Morocco: Rabat and Casablanca. To the north of Meknes lie the cities of Tangier and Tetouan. Finally, to the east are the cities of Fez and Oujda.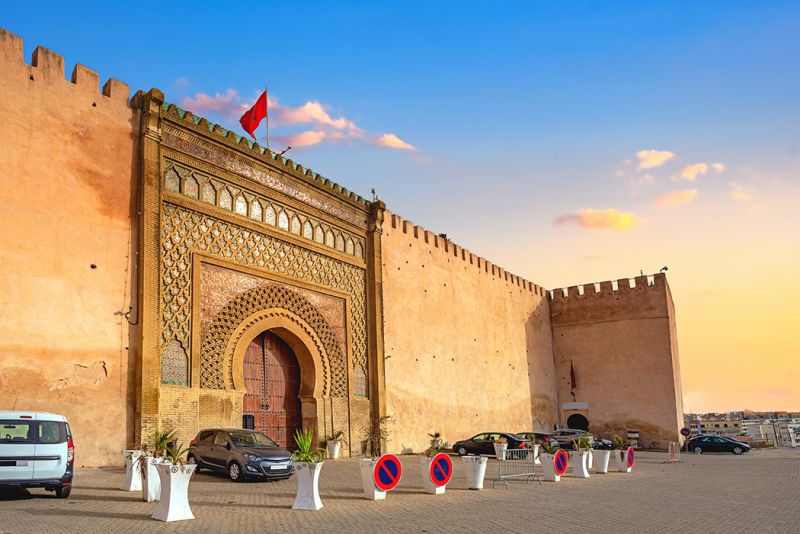 Climate

Just like the other imperial cities of Morocco, Meknes has a Mediterranean climate with hot summers and mildly cold winters. This climate is similar to that of southern Portugal and Spain. The temperature in these region shifts from a cool climate in winter to a much warmer one in the summer months.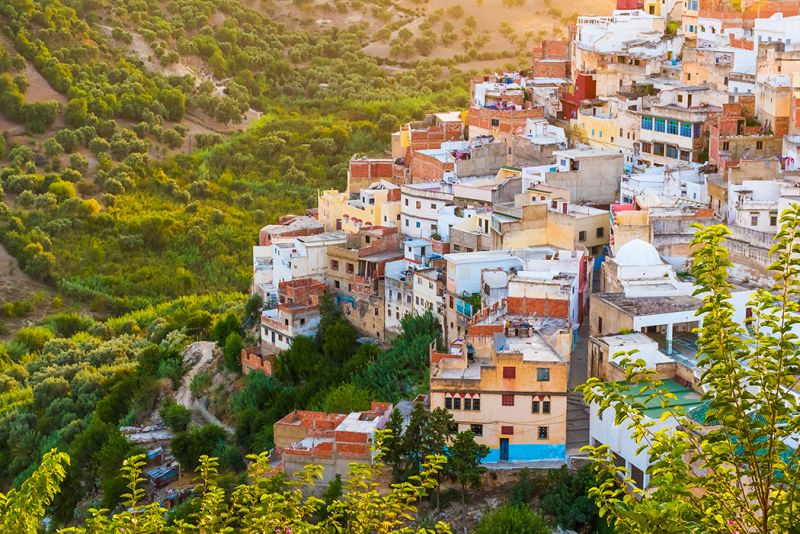 Local Customs

Meknes is an Islamic city, thus most of their customs and tradition are in conformity with Islamic laws and customs. Dance, music artworks, and colorful festivals form an important part of the cultural customs of this City. Islamic festivals are widely celebrated throughout the city with the religious leaders orchestrating the ceremony from start to end. Other carnivals and festivals are celebrated to proudly display the customs of the city. Crafts and artwork made by the talented artists are displayed and showcased during these festivals, giving tourists the opportunity to appreciate these artistic marvels.
Blend the excitement of Spain, elegance of Portugal & charm of Morocco with our Spain Morocco Portugal Tours.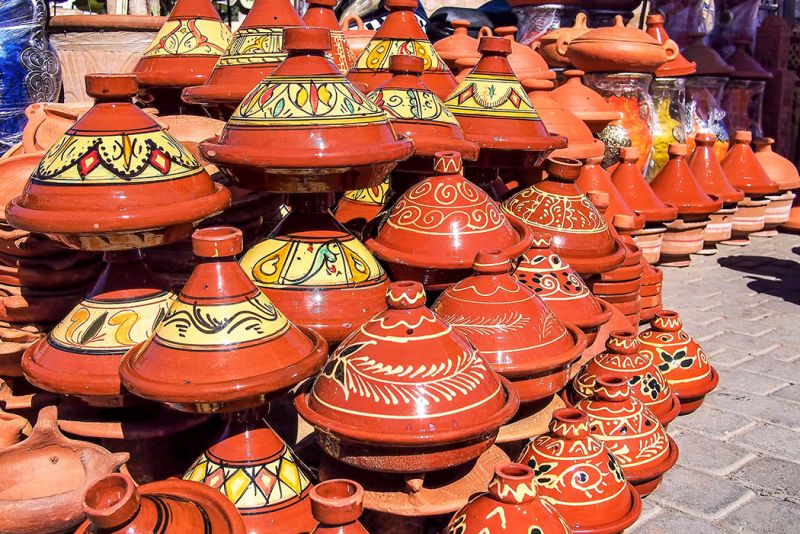 Local Dishes

If you like trying out new delicacies and dishes, then Meknes is the perfect place for you. In this city, spicy and tasty meals are served to visitors both in restaurants and homes. The local dishes of this country are so unique and beautiful that they are found in international restaurants all over the world. Some of these delicious meals are listed below.

Couscous

Although it is considered as the national dish of Morocco, this spicy meal made from rice, meat, vegetable and some other spices is very popular in Meknes. It is majorly served on religious days and events but can also be served to entertain visitors.

Khobz

Khobz is a locally made bread that is baked in local ovens are often served with hot and spicy stew. This is not something you want to miss.

Chicken Brochettes

This is a local delicacy common all over Morocco. It is made from chicken rubbed in spices and grilled over a hot open fire.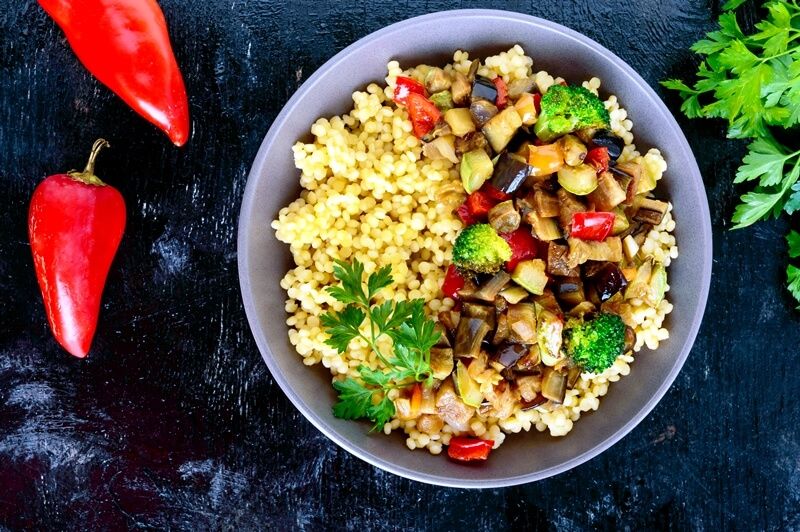 Wonderful Places to Visit in Meknes

There are a lot of places of architectural and historical significance all over the city of Meknes. Since the city of Meknes is also a religious city, people who love religious structures will also find a lot of large and beautiful mosques that were built back in the 17th century. Some of the wonderful places you can visit in this city are listed below.

Volubilis

This is Meknes's most important and popular tourist attraction. It is Morocco's most popular Roman remnant. Although a lot of important items have been transferred from this site to various museums all over Morocco, one can still enjoy the beautiful architectural designs of the buildings in this ancient roman city.

Bab-al-Mansour

The Bad-al-Mansour is the biggest of all the gates in Meknes. It is this gate that links the Meknes's medina to the rest of the imperial city. The gate was built in 1732 by Sultan Moulay Ismail. The beautiful architectural design on this gate shows the lavish use of Zellige tilling and carving work that was common at the time the gate was built.

The imperial city

The imperial city of Meknes which once served as the ancient capital of Morocco has a lot of fascinating ancient structures that tourist can see and explore. It is considered as one of the most important tourist centres in the whole of Morocco.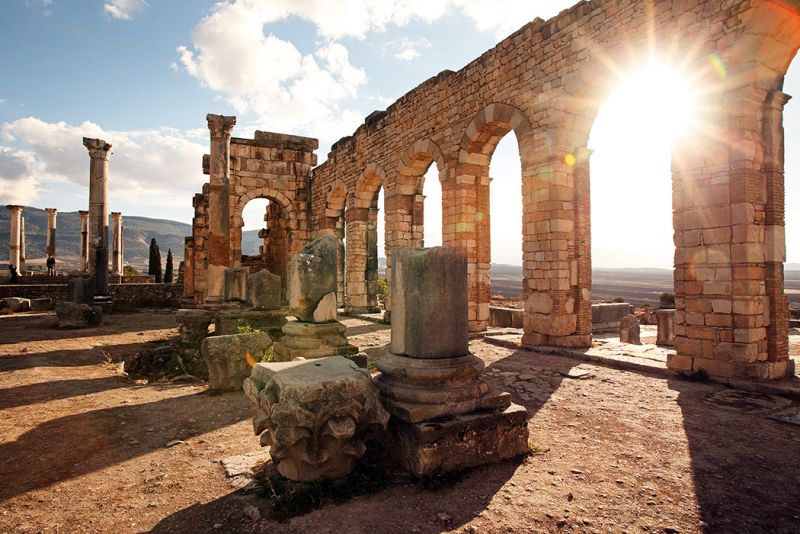 Travel Tips:

As you travel to this wonderful city, it is important that you know that the ancient structures found all over the city are a great and important part of the history and culture of the city. Therefore, respect these structures and do not be careless around them.

Even though the city is relatively safe and peaceful, being cautious is the way to go as you move around as it is possible that a criminal might be lurking around to take advantage of unsuspecting tourists.

Finally, try as much as possible to travel with a travel agency that will help you with your accommodation, and that will also provide you with a travel guide. This will make your journey easier and relatively stress-free.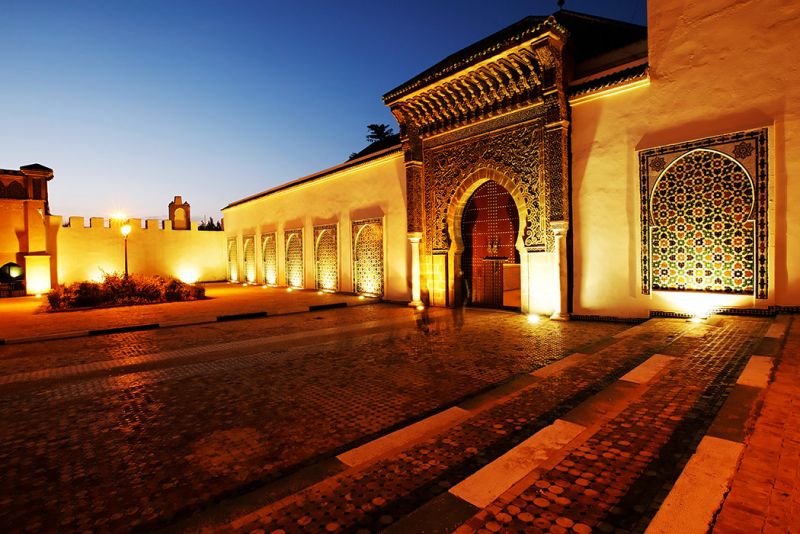 FAQs
Is Morocco safe for travel?
Yes. Morocco is considered a safe and very welcoming country. But even thought it has low crime rates if compared to other places, of course common sense is applied and we always tell visitors to take care of their belongings and consult their tour guide or leader in case of any concerns.
What is the best time to visit Morocco?
Fortunately Morocco is great at any time, therefore our Morocco Tours run all throughout the year. Yet, the favourite time for most visitors is from mid-March to May (spring) and from September to October (fall), when it is a good type of warm weather.
What is the official currency in Morocco?
The Moroccan Dirham (MAD) is the currency of Morocco. The name "Dirham" derivates from the Roman word "denarius", which means money. Currently 1USD = 9 MAD.
Will I receive a refund If I am forced to cancel my trip with Memphis Tours?
If you are cancelling your Morocco Tour Package for personal reasons, the refunded amount will depend on how far in advance you notify us about your change of plans. Nevertheless, if cancelation reasons are weather conditions or circumstances out of your control, Memphis Tours grant you a full refund of the paid amount.
What are the top activities to do in Morocco?
There is simple a lot to do in Morocco. On the top of the list is riding a camel in the desert, go sand boarding on the dunes of Erg Chebbi, enjoy a traditional Berber camping, visit roman ruins, have a traditional Moroccan mint tea, walk around the medinas, and even climb and hike in Todra Gorge for the adventure ones. You can check infinite possibilities with one of our Morocco Tour Packages.
How can I obtain my visa to visit Morocco?
Tourist visa upon arrival at the airport in Morocco is available to citizens that need one (USD 27) while some should obtain it before departure. Nationals of 67 countries do not need a visa, among them are the UE, Algeria, Argentina, Brazil, Chile, USA, France, Germany, United Kingdom, Canada, New Zealand. Check with the Moroccan embassy or consulate in your country to know if you exempt of VISA or not. Assistance upon arrival is included in our Morocco Travel Packages.
Is it allowed for non-Muslims to enter historical mosques in Morocco?
Non-Muslims are mostly welcome to experience everything that Morocco has to offer, and this includes visiting mosques too, except during the five prayers of the day or on Fridays. You will find many of them in our Morocco Imperial Cities Tour.
Do I have to learn Arabic in order to enjoy my visit to Morocco?
You don't need to learn Arabic in order to have a great time in Morocco. But in any country that you visit it will always be welcome to know some few words or how to greet people. In some local areas or less touristic places it can also be very useful. Other than that, French is the second language in Morocco.
Are there any health issues that I should worry about in Morocco?
If you are having a Morocco Tour during summer take care of your skin by covering it with light clothes and always have sun block with you. Keep yourself hydrate and be away of tap water. Don't eat food from suspicious restaurants or street food as it can cause some gastric disturbance. Other than that, you shall not worry.
Is there a discount for booking my Morocco vacations tour far in advance?
Yes. We at Memphis Tours offer deals that are fair to your pocket, and our Morocco Travel Packages come with an "Early Bird" discount for customers that pay the full expenses ahead of time. We grant 5% discount if full payment is received six months prior to the date of your arrival. Be aware that "Early Bird" rates require full, non-refundable prepayment. In case of date changes or refunds, discounted tours are not eligible. Get in contact with one of our tour agents to know more.
Will I be able to exchange dollars, Euros, or other currencies in Morocco?
Definitely. You will find many exchange offices and banks that change money for you. Other than that, many restaurants and shops used to tourists will accept Euros or dollars at rates close to the official ones, but it is always better to carry the local currency during your Morocco Tour.
How common is the use of credit cards in Morocco?
It is very common. Master Card, Visa, and American Express are the most common types of credit cards used in shops, hotels and restaurants in the country.
Is it a common practice to give tips in Morocco?
Tipping is part of Moroccans income, so it is quite customary although not an obligation. Offer tips if you are willing to do so.
Was Morocco a Spanish colony?
Yes, but not only. Morocco was France's colony in early 1900 after an agreement between French and Italians. But France also made an arrangement with Spain and the Moroccan territory was divided between both countries. Even after Morocco's independence Spain and France's power continue to be a threaten to them.
I am a vegetarian or allergic to certain products, any problem?
It is not a problem, don't worry. Most of meals will be buffet, therefore you feel free to choose what you want. If you have any serious allergies you can always inform your tour leader and he will take care of it at restaurants and inform the staff about special orders.
Are the taxes included in your prices?
We always include VAT and Tourist Taxes in our Morocco Travel Packages. The only exception is for Tourist Tax of Cataluña (region where Barcelona is located); this one needs to be paid at the hotel. The current amount is 1 euro per person and per night.
Is there a ferry from Spain to Morocco?
There is a ferry. High-speed trains usually depart from Algeciras (Spain) to Tangier (Morocco), and the whole trip takes 2h30 to 3h. It is a relatively cheap choice, although more expensive and longer journey trains are available from Barcelona.
How far apart are Spain and Morocco?
Only eight miles separate Morocco and Spain. However, there is a big difference between both countries, apart in religion, style and culture.
Does Spain have a border with Morocco?
Funnily yes. The countries share both physical and maritime borders, respectively between Morocco and Ceuta and in the Canary islands area, along the Strait of Gibraltar and the Alboran Sea. In total the borders are along the north coast of Morocco and from the Spanish side along Melila, Ceuta, and Plazas de Soberanía.
Travel Experience Since 1955

Memphis Tours is one of the pioneers which have great impact on travel industry for more than 55 years of experience.

Personalized Travel Services

Whatever your travel dreams, together we can custom-design the perfect itinerary with highly personalized services just for you

We Speak Your Language

A multilingual website offers content in 6 different languages English, Spanish, Portuguese, French, Italian and German

Flexibility to Change

We know how important it is for travellers to have the flexibility to change their itinerary due to some reasons or force majeure

Your Safety and Security

A professional will accompany the guests to all of the places; they will never be left alone to fend for themselves

High Quality Service

We do believe honestly that quality should come first and quantity would come later and our main objective focused on (Quality is our Top Priority)

Customer Service 24/7

We offer Customer Support 24 hours a day, 7 days a week by phone and email for questions about our tours and services

Support Sustainable Tourism

We are attempting to make a low impact on the environment and local culture, while helping to generate future employment for local people

Secure Online Payment

Our website is protected by the world′s most secure online payment system VeriSign Secure

Secure Website by MacAfee

Memphis Tours website is a McAfee Secure site that helps keep you safe from identity theft, credit card fraud and spyware