A Detailed Santorini Travel Guide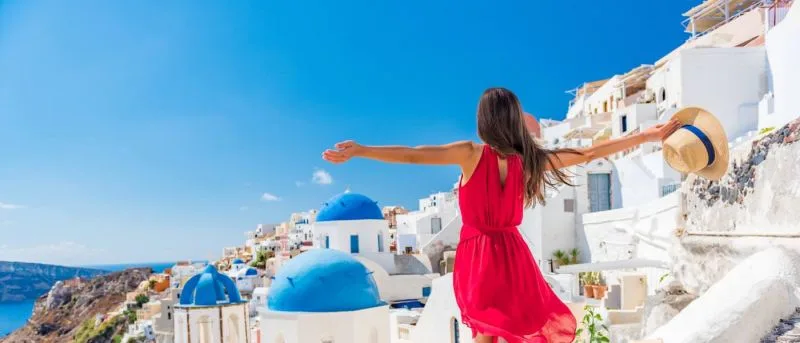 Santorini is a breathtaking Greek island that has captivated the hearts of many travelers. With its unique geography, stunning white-washed towns, azure waters, and romantic sunsets, it's no wonder why Santorini is one of the most popular destinations in the Mediterranean.
This complete guide to Santorini will help you make the most of your stay on the island. Whether you're looking for a romantic getaway, a family-friendly destination, or just an unforgettable adventure, Santorini has something for everyone. In this complete guide to Santorini, you'll find out all the best things to do, see, and experience while visiting this stunning Greek island.
History
Santorini is an island located in the Aegean Sea, about 200 km southeast of mainland Greece. It is considered one of the most romantic and picturesque islands in the world. Santorini is known for its stunning sunsets, volcanic landscape, and white-washed buildings with blue domes that dot the coastline.
The history of Santorini dates back over 3,500 years when it was part of the Minoan civilization, the earliest advanced civilization in Europe. In 1627 BC, Santorini was devastated by a massive volcanic eruption that caused an earthquake and tsunami. The remains of this eruption can still be seen today, with dramatic cliffs, beaches, and other geological features.
In terms of geography, Santorini is made up of five islands: Thira, Thirassia, Aspronisi, Palea, and Nea Kameni. Thira is the main island and is also home to Santorini's capital city Fira. This city is situated on the edge of a large volcanic crater, overlooking the sea. The other four islands are smaller.
Santorini has a population of about 15,000 people. The majority of the population are Greek Orthodox Christians. The official language is Greek, although English is widely spoken by locals.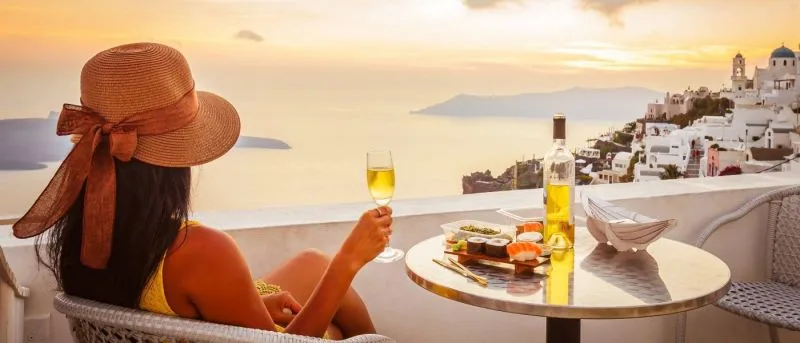 Activities and Attractions
Santorini is a popular destination for tourists looking for a taste of traditional Greek culture and natural beauty. The island offers a wide range of activities and attractions that cater to different interests and preferences. From exploring ancient sites and admiring the traditional architecture, to swimming, hiking, and island hopping, there is something for everyone to enjoy on this beautiful island.
One of the most popular activities on the island is hiking. There are many trails that offer stunning views of the caldera and the Aegean Sea. Visitors can explore the island's rugged terrain, admire the unique geological features, and take in picturesque landscapes. The island's main attraction is Oia, a traditional village known for its white-washed buildings and blue-domed churches. Visitors can explore the village's charming streets, admire the traditional architecture, and take in the stunning views of the caldera.
Another popular activity on the island is swimming and snorkeling in crystal-clear waters. Santorini offers several beaches that provide the perfect setting for swimming and snorkeling, such as the black sand beaches of Perissa and Kamari, and the red sand beach of Vlychada. Visitors can also explore the nearby islands, such as Ios, Mykonos, and Naxos, through island hopping. This is a great way to discover the beauty of the Aegean Sea and experience the traditional culture of the nearby islands.
Santorini also offers a variety of entertainment options for visitors looking for nightlife and entertainment. The island offers a variety of options, from lively bars and nightclubs to more relaxed tavernas and lounges. Visitors can enjoy traditional Greek music and dancing, or take in the island's famous sunsets with a cocktail in hand.
For adventure seekers, Santorini offers a variety of activities such as paragliding over the caldera, volcano tours, and hot air balloon rides. These activities offer visitors a chance to experience the island's natural beauty from a different perspective, and to discover the island's history and culture.
The best time to go to visit Santorini
The best time to visit Santorini depends on your preferences and what you're looking to get out of your trip. The island experiences a Mediterranean climate, with warm summers and mild winters.
If you're looking to enjoy the island's beaches and outdoor activities, the best time to visit is between April and October when the weather is warm and sunny. During this time, the temperature ranges between 75-85°F (24-30°C) and the sea water is warm enough for swimming.
However, it's important to keep in mind that the island can get crowded during peak tourism seasons, which are June to September, so consider visiting during the shoulder seasons of May or October for a more authentic experience with fewer crowds.
If you're looking to avoid the crowds and enjoy a more peaceful trip, the best time to visit is during the off-season, between November and March. The weather is milder, and the island is less crowded, although some of the beaches, restaurants, and hotels may be closed.
Overall, the best time to visit Santorini is a personal preference, it depends on the type of trip you're looking for, the weather, and the crowd level.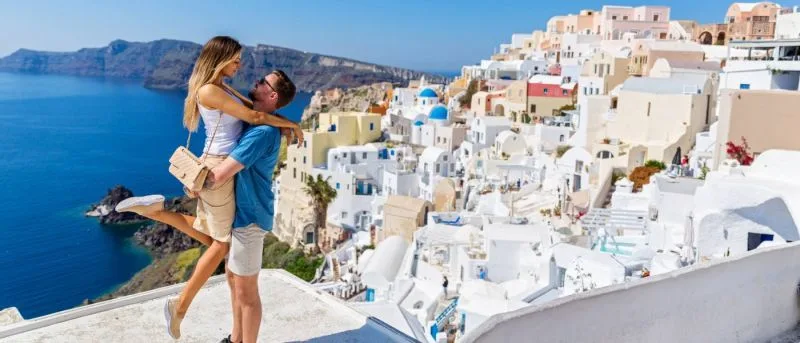 How to Get There How to Get There
Santorini is an incredibly popular destination, so it's easy to get there from most countries around the world.
By Plane: If you're looking for the fastest and most convenient way to get to Santorini, flying is your best option. The island is serviced by two airports: Santorini National Airport (JTR) and Santorini Port Heli (JSH). Both are located on the south side of the island and offer a range of flights from international destinations such as Athens, Thessaloniki, and other Greek islands.
By Cruise Ship: Another popular way to get to Santorini is by cruise ship. Many cruise lines offer packages that include stops at several popular ports in Greece, including Santorini. Cruises typically arrive in the morning and depart in the evening, so you'll have plenty of time to explore the island.
By Ferry: If you'd prefer to travel to Santorini by sea, you can take a ferry from the port of Piraeus near Athens. The journey takes between 5-7 hours depending on the ferry and offers beautiful views of the Aegean Sea. There are also ferry services that connect Santorini with nearby islands such as Mykonos and Crete. Regardless of how you choose to get there, a visit to Santorini is sure to be unforgettable!
Final Thought
Santorini is a stunning destination full of history, beauty, and culture. It is an ideal destination for any traveler looking to experience the unique beauty of the Mediterranean. From its white-washed buildings and winding cobblestone streets to its turquoise waters and stunning sunsets, Santorini has something to offer everyone. Its incredible landscape, warm hospitality, and laid-back vibe make it a great place to escape to and spend a few days. Whether you are looking for adventure or relaxation, Santorini has something for everyone. As you explore the island and discover its hidden gems, be sure to take the time to appreciate its unique culture and history.
Travel Experience Since 1955

Memphis Tours is one of the pioneers which have great impact on travel industry for more than 55 years of experience.

Personalized Travel Services

Whatever your travel dreams, together we can custom-design the perfect itinerary with highly personalized services just for you

We Speak Your Language

A multilingual website offers content in 6 different languages English, Spanish, Portuguese, French, Italian and German

Flexibility to Change

We know how important it is for travellers to have the flexibility to change their itinerary due to some reasons or force majeure

Your Safety and Security

A professional will accompany the guests to all of the places; they will never be left alone to fend for themselves

High Quality Service

We do believe honestly that quality should come first and quantity would come later and our main objective focused on (Quality is our Top Priority)

Customer Service 24/7

We offer Customer Support 24 hours a day, 7 days a week by phone and email for questions about our tours and services

Support Sustainable Tourism

We are attempting to make a low impact on the environment and local culture, while helping to generate future employment for local people

Secure Online Payment

Our website is protected by the world′s most secure online payment system VeriSign Secure

Secure Website by MacAfee

Memphis Tours website is a McAfee Secure site that helps keep you safe from identity theft, credit card fraud and spyware