A visit to Louvre Abu Dhabi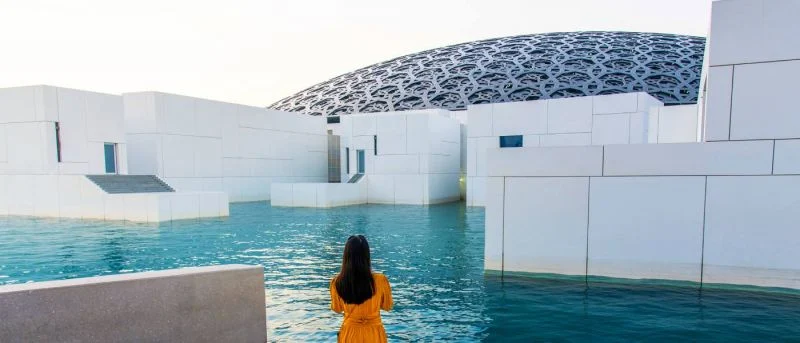 There is always something new and exciting to explore when you travel to the United Arab Emirates, especially Dubai and Abu Dhabi. And it's not only shinny skyscrapers. Over the past few years, the region has worked hard to build a supreme landscape of culture, art and entertainment.
The Louvre Abu Dhabi is a stunning addition to the world of art and culture. Built on the Saadiyat Island in Abu Dhabi, it was officially inaugurated by French President Emmanuel Macron and Sheikh Mohammed bin Zayed Al Nahyan in 2017. This museum is a joint venture between France and Abu Dhabi, with France lending its expertise in museum curation and Abu Dhabi providing the funding and venue. The museum has become a symbol of cultural exchange and intercultural dialogue between East and West.
The idea for the Louvre Abu Dhabi first emerged in 2007, with negotiations leading to an official agreement being signed in 2012. Construction on the museum began in 2013, taking four years to complete. It was designed by award-winning French architect Jean Nouvel and consists of a complex of buildings and galleries surrounded by a dome-like structure, inspired by the traditional architecture of the Middle East.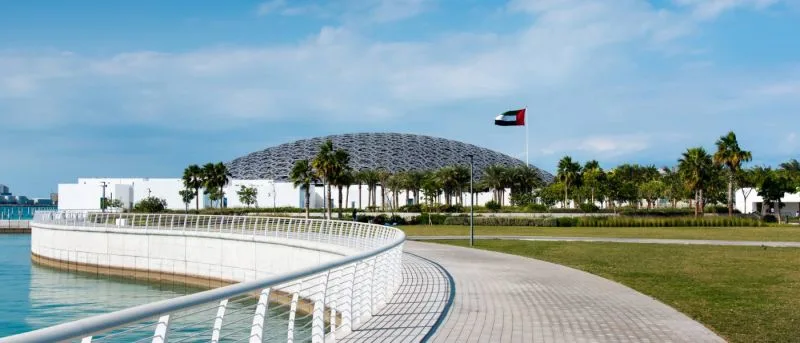 Architecture and Design:
The Louvre Abu Dhabi is a stunning architectural masterpiece designed by French architect Jean Nouvel. The museum's design is inspired by the traditional Islamic architectural style and features a large dome made up of 7,850 stars that allows natural light to filter into the building. The dome also serves as a metaphor for the museum's mission of promoting cultural exchange and creating a connection between different cultures. The museum's interior is designed to be a harmonious blend of traditional and contemporary elements, with the use of clean lines and natural materials.
What to Expect
When visiting the Louvre Abu Dhabi, visitors can expect to experience a world-class museum that combines traditional and contemporary influences. The museum brings together works from around the world, with a focus on Islamic art and culture. The permanent collection includes artwork from prehistory through to the present day, including pieces by some of the world's most renowned artists.
Visitors to the Louvre Abu Dhabi can also expect to find interactive exhibits and educational experiences. The museum offers guided tours, audio tours, and workshops for those interested in learning more about art and culture. There are also several restaurants and cafes where visitors can relax and enjoy a meal or snack after exploring the museum.
The Louvre Abu Dhabi also features a variety of interactive displays and activities, such as hands-on activities for children, digital displays, and multimedia presentations. Additionally, the museum has an auditorium where lectures, screenings, and performances take place. All of these features make the Louvre Abu Dhabi an exciting destination for both children and adults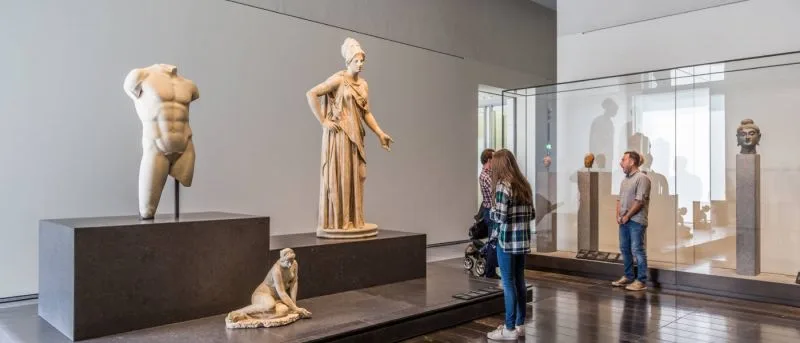 The Collection
The Louvre Abu Dhabi is home to an incredible and expansive collection of artwork from around the world.
The collection of artworks on display at the Louvre Abu Dhabi spans multiple cultures, religions, and historical periods. It includes over 600 works from early civilizations in Mesopotamia and Egypt, as well as pieces from the ancient Greek, Roman, and Islamic worlds. There are also modern pieces from the Renaissance, Impressionism, Expressionism, and other movements. In addition, the museum houses some important works by renowned artists such as Picasso and Monet.
From antiquities to contemporary works, the museum features a wide range of art from all eras and cultures. The permanent collection includes ancient artifacts such as prehistoric tools and sculptures, Greek vases and Islamic calligraphy. There are also masterpieces from the Renaissance and Baroque periods, as well as modern works by French Impressionists and contemporary Arab artists.
One of the highlights of the collection is a selection of works by some of the world's most renowned artists, such as Leonardo da Vinci, Monet, and Matisse. Other highlights include a number of pieces from the United Arab Emirates, including a sculpture by late Emirati artist Hassan Sharif and pieces from the UAE's traditional jewelry makers.
Special collection
In addition to its permanent collection, the Louvre Abu Dhabi also features special exhibits that focus on various themes. These temporary exhibitions provide visitors with the opportunity to explore unique and diverse subjects.
One such exhibit is Dragon Phoenix: Centuries of Exchange between Chinese and Islamic Worlds, which highlights the cultural connections between these two great civilizations.
Another exhibit is Art Here 2021, featuring award-winning works from emerging Arab artists. These exhibits are only on display for a limited time, so be sure to visit before they close. Dragon Phoenix: Centuries of Exchange between Chinese and Islamic Worlds ends on February 12, 2022, and Art Here 2021 will be on display until March 27, 2022. Don't miss your chance to see these fascinating exhibits!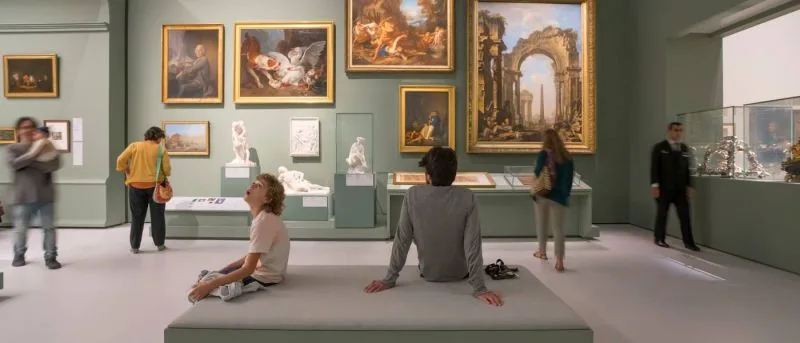 Children exhibit:
Another special exhibit that is perfect for children is the Children's Museum. This exhibit is designed to engage and educate children through interactive and hands-on exhibits that focus on various themes such as science, technology, art, and culture. Children can explore the museum's collection through interactive activities, games, and workshops that are designed to spark their curiosity and encourage them to learn more about the world around them. Additionally, the Children's Museum also offers special programs and events throughout the year that are tailored to children, such as storytelling sessions, art classes, and science experiments. This is a great way for children to have fun while learning and it will also help to enhance their creativity and imagination.
Tips for visiting:
To make the most of your visit, consider taking a guided tour which is offered in English and Arabic. The tour provides a more in-depth look at the exhibits and the history of art. The museum also has a number of interactive exhibits that are fun for visitors of all ages.
Additionally, the Louvre Abu Dhabi is located on Saadiyat Island, which is home to other cultural institutions such as the Zayed National Museum and the Abu Dhabi Performing Arts Centre.
Be sure to get there early. The museum can get busy during peak hours, so it's best to arrive as close to opening time as possible. That way, you'll be able to explore the galleries in peace before the crowds arrive.
Bring a camera or smartphone to capture the breathtaking artwork, architecture and collections. However, keep in mind that tripods and selfie sticks are not allowed in the museum.
Lastly, come with an open mind and be ready to learn. There is much to explore in this unique museum and you will no doubt leave feeling inspired.
Tickets/admissions and opening hours
Adults (from 18 to 60): $17
Children (aged 18 and below) and seniors citizens (60 and above): Free of charge
The Louvre Abu Dhabi is open to visitors from Saturday to Wednesday from 10 am to 8 pm and on Thursdays and Fridays from 10 am to 10 pm.
Conclusion:
The Louvre Abu Dhabi is a must-see destination for art lovers and history enthusiasts. The museum's collection is diverse and offers a glimpse into the history and culture of different regions and periods. The museum's stunning architecture and emphasis on education and outreach make it a unique and exciting cultural destination in the Middle East.
Travel Experience Since 1955

Memphis Tours is one of the pioneers which have great impact on travel industry for more than 55 years of experience.

Personalized Travel Services

Whatever your travel dreams, together we can custom-design the perfect itinerary with highly personalized services just for you

We Speak Your Language

A multilingual website offers content in 6 different languages English, Spanish, Portuguese, French, Italian and German

Flexibility to Change

We know how important it is for travellers to have the flexibility to change their itinerary due to some reasons or force majeure

Your Safety and Security

A professional will accompany the guests to all of the places; they will never be left alone to fend for themselves

High Quality Service

We do believe honestly that quality should come first and quantity would come later and our main objective focused on (Quality is our Top Priority)

Customer Service 24/7

We offer Customer Support 24 hours a day, 7 days a week by phone and email for questions about our tours and services

Support Sustainable Tourism

We are attempting to make a low impact on the environment and local culture, while helping to generate future employment for local people

Secure Online Payment

Our website is protected by the world′s most secure online payment system VeriSign Secure

Secure Website by MacAfee

Memphis Tours website is a McAfee Secure site that helps keep you safe from identity theft, credit card fraud and spyware