Desert Safari
Quad Bike Safari Adventure
Desert Safari by Quad Bike
Quad Bike Desert Safari
Quad Bike Desert Safari
Quad Bike Desert Safari
Bedouin Safari in Makadi by ATV Quad Bike
Bedouin Safari in Makadi by ATV Quad Bike
Bedouin Safari in Makadi by ATV Quad Bike
Bedouin Safari in Makadi by ATV Quad Bike
Enquire Now
7 Hours
Type Group Tour
Schedule Everyday
Enjoy this fun adventure at sunset from Makadi Bay (Hurghada) by Quad Bike,the best way to see and feel the beauty and nature of the desert is by evening tours with a cooler atmosphere and sunset views. This adventure will include several exciting activities besides your Quad Bike such as leisurely Camel ride, sand surfing, delight in a Bedouin evening of food, song and dance. An unmissable experience.
Itinerary:
Afternoon pick up from your Hotel in Makadi Bay, Soma Bay, El Gouna, Hurghada and other resorts by air-conditioned vehicle to the Quad-Bike Station where you will have a test drive with your Guide before starting an exciting excursion into the desert with your ATV quad bike. The vast expanses of desert behind the Red Sea are an action- packed adventure zones just waiting to be explored. On this trip you will try camel riding, sand sailing, and a visit a Bedouin village to meet local Bedouin people to see how they live a complete yet simple life, smoke a traditional hookah water pipe (hubbly bubbly), and enjoy a barbeque dinner under the stars after watching the sun go down with Bedouin dance and folkloric show in the Hurghada desert. Then drive your quadrunner back to the station where you will be taken back to your hotel in Makadi Bay.
Included:
Transfers to and from Hotel to quad-bike station
Quad-bike test drive before the journey starts
Professional quad-bike guide for your assistance
Quad-bike ticket and fees
Panorama view and Sunset attendance
Professional Desert Safari Tour Guide
Camel ride in the desert of Hurghada
Bedouin Village Tour with Bedouin Tea
Barbeque dinner with mineral water and soft drinks
All service charge and taxes are included in the price
Excluded:
Personal expenses
Tipping Kitty
| | | | |
| --- | --- | --- | --- |
| | 2-3 Persons | 4-6 Persons | 7-10 Persons |
| Prices | $ 66 | $ 61 | $ 61 |
Prices - Per Person in Sterling Per Tour and can be paid in US$ or Euros by credit card via a secure payment system with no extra surcharge.Current prices valid through September 30th 2015.


Payment - Reservations should be made as early as possible to secure your places on required tour and we accept booking 1 day prior to tour starting .Your booking will be secured upon receipt of a 25% deposit Once completed, our Representative will take the balance of payment when you are collected for your tour.(cash or credit and debit cards accepted).


Transportation - Transport for all tours included: domestic flights, trains, and air conditioned vehicles by road. Wi-Fi, Bottled water and ice box all included whilst travelling by road. All are new vehicles of the latest design and technology.


Tour Guides - Are always there to meet and greet you from your pickup point and return. All tours of the sites in Egypt include constant guidance of a highly qualified Egyptologist Tour Guide both on included and optional tours.


Travelling with Children in Egypt - Children delight in touring the Pyramids, Temples and Tombs in Egypt as often it is part of their school study programme. Memphis Tours offers packages to suit all ages with excellent combined multi location destinations such as Cairo, Luxor, Aswan, Nile Cruise and the Red Sea Resorts.


Wheelchair Travellers - Memphis Tours are particularly keen to promote and cater for disabled and wheelchair clients with specially adapted transportation for easy accessibility. (Please click here).


Dress Code Egypt In general, Egypt is predominantly a Muslim Country and culture. Therefore is it expected that in certain places and regions, that a specific dress code is adhered to.
Whilst in the resorts on the Red Sea is more relaxed, the bigger Cities where tourism is more minimal, codes are required.

Nile Cruises - The Nile Cruise boats are generally a little more relaxed whilst you are sailing. However, it is not appreciated that female guests participate in topless sunbathing on the sun terrace. The Boat staff and crew are all males and generally Muslims so it is very offensive to them and can also be an embarrassment to the female guests. Shorts and T shirts for both men and women on board are acceptable, but at evening dinner, shorts are generally not accepted and guests are expected to dress in a more formal manner.

Hotels - In general, Hotels have the same code of conduct regarding dress as do the Nile Cruise Boats with the addition that swimwear is not permitted in the Reception areas and dining rooms.

Cities and Attractions - In the larger Cities such as Cairo, Alexandria, Luxor and Aswan, certain standards are also required. Whilst walking in the streets, shorts for men and women are acceptable, however, women and girls can often be stared at. Therefore, it is more advisable to wear long skirts or leggings / trousers.
Religious attractions such as Mosques and Churches have strict dress guidelines for men and women.
Women MUST cover their heads with a scarf, wear long skirts (or at least covering their legs) with non- revealing tops and remove all shoes. Men must also wear long trousers and remove all footwear.

Red Sea Resorts - Resorts such as Hurghada and Sharm El Sheikh have a much more relaxed code when it comes to dress, Shorts and strappy tops are normal wear in the streets. However, topless sunbathing is not encouraged as it will just bring unwanted attention to the females by local men and beach / bar attendants. Hotels have the same rules as listed above in the Hotel section.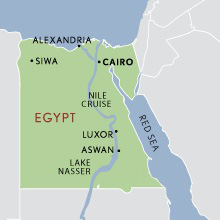 Best Time to Visit Egypt
An all year round destination with winter season being the coolest with still good average temperatures between 21- 26 degrees in the Red Sea resorts and Upper Egypt (Luxor/ Aswan) between 23 - 29 degrees
Flying to Egypt
Cairo - for comfort and quality - EgyptAir & British Airways (Scheduled Airlines only) ; Luxor - EgyptAir (Scheduled), Easyjet ( Charter), Monarch (Charter) ; Sharm el Sheikh - Easyjet (Charter), Monarch (Charter) ; Hurghada - Easyjet (Charter), Monarch (Charter)
Flying Time
4 hours 50 minutes direct from London
Time Difference
GMT +2
Visas
Required - obtainable in advance or on arrival for non-restricted nationalities
Health Requirements
No mandatory vaccinations
Clothing
Respectful attire in Luxor, Cairo and Alexandria on tours - More relaxed clothing in the Red Sea areas like Hurghada and Sharm El Sheikh