Cairo Tours & Nile Cruise Luxor
Cairo Tours & Nile Cruise Luxor
Make an Enquiry


8 Days

Private Tours

Wednesday, Thrusday
An 8 day wonderful special offer to discover not only the famous sites in Cairo such as the Great Pyramids and Sphinx, Egyptian Museum and more, but also exploring the old ancient City of Luxor with it's renowned archeological sites of the Valley of the Kings and Temples. Starting in Cairo then transferring to colourful Aswan, home to the friendly Nubians with tours of the High Dam and other sites.
Welcome to
Cairo
,
Egypt
. Your Memphis Tours Representative will meet and assist you at Cairo International Airport and then escort you to the Hotel in Cairo by air-conditioned vehicle. At the Hotel the Representative will assist with a smooth check-in and review your holiday itinerary with you to establish and confirm pick-up times for each tour. Overnight in Cairo.
Welcome Drink
2
Day 2: GIZA / CAIRO TOURS
Check-out after breakfast and then your private expert Tour Guide will accompany you to the
Giza
Plateau, home of Egypt's Greatest attractions to visit The Great Pyramids, one of the Seven Wonders of the ancient world including the Great Pyramid of Cheops, Middle Pyramids of Chephren and the smallest Mykerinos. A camel ride and family photo in front of Pyramids, then on to visit the mysterious Sphinx, known as the Father of Terror to the ancient Pharaohs. The tour includes visit to the Valley Temple, facing the great sphinx with lunch at a local quality restaurant.Then on to visit the world-renowned Museum of Egyptian Antiques that was built in neo-classical style designed by the French architect t Marcel Dourgnon which exhibits a collection now over 120000 masterpieces ranges from pre-dynastic era, Pharaonic era to the Greco-Roman period in Egypt including the treasures of the boy King Tutankhamun, Pharaonic Gods and Goddess's with an option visit to the Mummification Room in the Museum where you can learn about the great art of mummification in ancient Egypt. Then visit the Christian heritage in Coptic Cairo including some of the early religious monuments of the city such as the Hanging Church or the suspended church this basilica church was named for its location on top of the south gate of the Fortress of Babylon the church became the centre of the Christian Church of Egypt then you will be transferred to Giza Train Terminal to board the sleeper train to Aswan with dinner, breakfast and overnight onboard
Please note - There is an additional charge to enter the Mummification Room at the Museum
Meals: Breakfast, Lunch, Dinner
3
Day 3: ASWAN NILE CRUISE TOURS
Breakfast onboard the sleeper train before arriving at Aswan Railway Station where you will be met and assisted by our Representative who will transfer you to embark on your Nile Cruise Boat in Aswan for the next 4 days / 3 nights. After lunch on board, you will be taken in an exciting tour to the world famous Aswan High Dam that was an engineering miracle when it was built in the 1960s. It contains 18 times the material used in the Great Pyramid of Cheops and provided much needed electricity and irrigation for Egypt. Nubia, the area that was flooded, experienced the biggest and most thorough archaeological excavations that Egypt has known. Then we go to see the 'Unfinished Obelisk' which still lies in the granite quarries which provided ancient Egypt with building materials. It would have been the largest piece of stone ever handled but when a crack was discovered it was abandoned where it was being hewn. Cross by boat to Angilika Island, to see Philae Temple, dedicated to the Goddess Isis, a structure rescued from the rising waters of Lake Nasser at the time of the High Dam's construction. A final optional evening excursion will offer the sound and light show at the Temple of Philae. Return to the Nile Cruise ship in Aswan free time at leisure in Aswan and overnight stay
Meals: Breakfast, Lunch, Dinner
4
Day 4: KOM OMBO / EDFU TEMPLES
Early Sailing to Kom Ombo. After your breakfast will be escorted by your Egyptologist English speaking Guide to visit Kom Ombo Temple, the crocodile-headed God of fertility and creator of the world and the only ancient Temple in Egypt divided into two, reflecting its dedication to two Gods: Sobek, the Crocodile God of fertility; and the falcon-headed Horus,God of the sky.Kom Ombo is also famous for the depictions of surgeon's instruments, giving us an early record of medicine and surgery in Ancient Egypt.Then you will take your lunch aboard your cruise with free time at leisure while sailing to Edfu to explore the Temple of Horus at Edfu, one of the best-preserved Ancient Egyptian temples on the Nile.The huge Ptolemaic Temple of Horus consists of many columns, halls, chambers and chapels. Two statues of Horus flank the twin towered entrance gate; and inside,one of the interesting inscriptions lists the titles of books (scrolls) held in the library. Continue the cruise with afternoon tea served on the sundeck whilst sailing to Luxor. Overnight Luxor.
Meals: Breakfast, Lunch, Dinner
Breakfast onboard the cruise, and then you will be taken to the West Bank of the river Nile with your Tour Guide to visit the two colossal statues known as the Colossi of Memnon, the old gateway to Ancient Thebes. Then on to explore the Valley of the Kings, where the magnificent tombs discovered with over 60 Pharaohs tombs unearthed carved deep into the desert rock, richly decorated and filled with treasures for the afterlife of the Pharaohs. Here you will visit 3 tombs.( the 3 tombs visited are determined by the Government as to reduce impact on the area due to large numbers of tourists). Continue the tour to visit the the Temple of Hatshepsut at El Deir El Bahary. This impressive Temple and frontage is dedicated to the Queen Hatshepsut the only female Pharaoh rising out of the desert plain in a series of terraces and merges with the sheer limestone cliffs that surround it. Back to the cruise for lunch and after afternoon tea on the boat with free time at leisure and overnight stay onboard. An optional excursion to attend the Sound and Light Show at the Temple of Karnak is available.
Meals: Breakfast, Lunch, Dinner
After breakfast you will be check out of your Nile Cruise and be accompanied by your Guide to visit Karnak Temple, the largest place of worship ever built. Its ancient name Ipet-isut means "the most sacred of places." The Temple, or more correctly, the complex of Temples, was built over more than two thousand years ago by generation after generation of Pharaohs. Within the complex, the great "Hypostyle Hall" is an incredible forest of giant pillars .Then you will be transferred to Luxor Temple which built by Amenhotep III and Ramses II for rituals and festivals and dedicated to the god Amon Transfer to Luxor Train Terminal to board your sleeper train back to Cairo with dinner, breakfast and overnight stay on board
Meals: Breakfast, Lunch, Dinner
7
Day 7: SLEEPER TRAIN - ARRIVE CAIRO
Breakfast aboard the train before arriving Giza Train Station where you will be met and assisted by a Memphis Tours Representative. Then a transfer to your Hotel for check into your room (which will be as early as is possible). Optional excursions in Cairo with free time at leisure. There are optional tours to The Citadel of Saladin which has amazing panoramic views over Old Cairo and beyond, and Khan Khalili Old Bazaar or your last minute hand crafted souvenirs and gifts.Overnight stay at your hotel in Cairo.
Meals: Breakfast
Breakfast at your hotel in Cairo with free time at leisure.Then you will be transferred to Cairo International Airport where you will connect with your flight back home.
Meals: Breakfast
What's Included:
Met and assisted at Cairo International Airport upon arrival and departure by our Representatives.
Expert assistance and guidance during your stay by our Personnel, including all tours mentioned.
All airport transfers by private deluxe A/C vehicle.
Accommodation for 2 nights in Cairo Hotel on bed and buffet breakfast basis.
Accommodation for 3 nights on board Nile Cruise Luxor to Aswan on full board basis.
Sleeper compartment for 2 nights aboard sleeper train on half board basis.
Tour to Pyramids, Sphinx, Valley Temple and Egyptian Museum.
Tour to Karnak Temple and Luxor Temple.
Tour to Valley of the Kings , Hatshepsut Temple and Colossi of Memnon.
Tour to Kom Ombo Temple and Edfu Temple.
Tour to the Aswan High Dam, Temple of Philae and Unfinished Obelisk in Aswan.
All sightseeing tours between Luxor and Aswan to join small- group tours
Lunch meal during tours in Cairo.
All sightseeing tours as mentioned.
English-speaking Tour Guide during all tours
Admission fees to the sights throughout the tours.
Applicable taxes for all hotels and Nile cruise included in the price.
Bottled water during the tours and journeys by road.
Free loan of mobile phone charged against 30 min local calls / 3 min. international calls.
What's Excluded:
International airfare to Egypt.
Entry Visa to Egypt.
Personal spending.
Optional excursions.
Tipping for Cruise Crew and Guides
Guidelines
Prices - Prices per person are quoted in Sterling but can also be paid in US$ or Euros by credit or debit card via a secure credit card payment system. Any additional bank charges on bookings will be covered by Memphis Tours. Above prices valid only during the selected dates above.


Payment - Reservations should be made as early as possible to avoid disappointment in securing your specific required tour package.Your booking will be secured upon receipt of a 25% deposit. Please note that during the Christmas and New Year holidays, tour packages require a deposit of 50%. This deposit forms part of your final payment by credit or debit cards via our secured payment system.


Transportation - All transport within your tours is included such as domestic flights, trains, and air conditioned vehicles by road. Wi - Fi can be provided in road vehicles, therefore please inform us on booking if you require Wi- Fi whilst travelling by road along with complimentary bottled water. All our vehicles are new and of the latest design and technology.


Tour Guides and Representatives - Throughout your holiday from arrival to departure, you will have the constant assistance of our Memphis Tour Representatives who are responsible for your transfers to and from Airports, Hotels and resorts and will assist at the Airports with Visa, tickets and luggage and are there to answer any questions you may have. Once you start your tours of the sites in Egypt, you will have the constant guidance of your highly qualified Egyptologist Tour Guide both on included and optional tours


Travelling with Children in Egypt - Many children delight in touring the Pyramids, Temples and Tombs in Egypt as often it is part of their school study programme. Therefore Memphis Tours offers packages and tours to suit all ages with excellent combined 'twin centre' and multi location destinations such as Cairo, Luxor, Aswan (Egypt Family Tours and Nile Cruise) and the Red Sea Resorts.


Wheelchair Travellers - Memphis Tours are particularly keen to promote and cater for disabled and wheelchair clients having Nile cruise boats, Hotels and tours especially adapted with rooms, cabins and transportation for easy accessibility. Please check the following link for more information.


Live Chat Consultants - A very quick and effective way to get answers quickly and efficiently is to consult one of our 'Live Chat' Consultants who are ready 24 hours a day, to answer any questions you may have. They are knowledgeable in English and can assist you quickly with enquiries such as bookings, tours, Airlines etc.


Tailor - Made Holidays - A holiday is a special occasion and often means spending your savings. Therefore, you need to make sure that it is the Holiday that you want. Here at Memphis Tours we are more than flexible in adapting your Holiday to what YOU require and can easily 'Tailor' it to your requirements .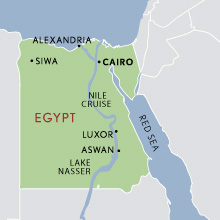 Best Time to Visit Egypt
An all year round destination with winter season being the coolest with still good average temperatures between 21- 26 degrees in the Red Sea resorts and Upper Egypt (Luxor/ Aswan) between 23 - 29 degrees
Flying to Egypt
Cairo for comfort and quality - EgyptAir & British Airways (Scheduled Airlines only)
Luxor - EgyptAir (Scheduled), Easyjet ( Charter), Monarch (Charter)
Sharm el Sheikh - Easyjet (Charter), Monarch (Charter)
Hurghada - Easyjet (Charter), Monarch (Charter)
Flying Time
4 hours 50 minutes direct from London
Time Difference
GMT +2 hours
Visas
Required - obtainable in advance or on arrival for non-restricted nationalities
Health Requirements
No mandatory vaccinations
Clothing
Respectful attire in Luxor, Cairo and Alexandria on tours.
More relaxed clothing in the Red Sea areas like Hurghada and Sharm El Sheikh

Call a specialist on
0-808-120-3630